Beef ban: 'Kerala does not need food lessons from Delhi, Nagpur', says Pinarayi
CM Pinarayi Vijayan said Keralites have a traditional food habit and nobody should bother changing it
The Kerala government suggested it could bring in a law to counter the Centre's cattle ban
The slugfest over the issue intensified after Youth Congress workers butchered a calf in Kannur
The police have booked some Youth Congress activists in connection with the incident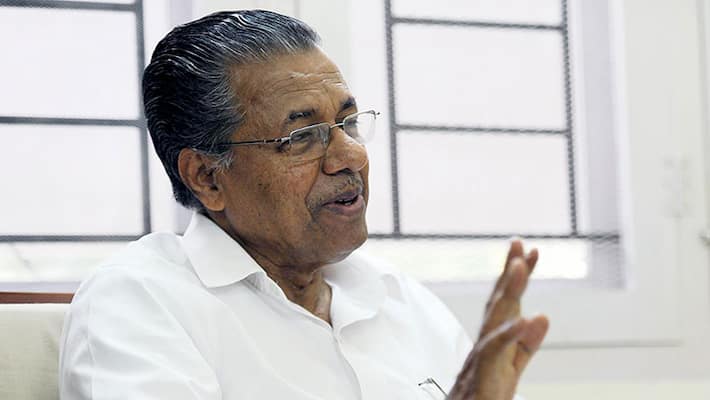 Ratcheting up his attack on the Centre over the ban on the sale of cattle for slaughter, Chief Minister Pinarayi Vijayan said the people of Kerala do not need a lesson on food habits from New Delhi or Nagpur. 
Speaking at a function in Alappuzha on Sunday, Pinarayi said Keralites have their traditional food habits, which are healthy and nutritious, and nobody should bother about changing it. "The state government will give all facilities to people to have food of their choice. There is no need for Keralites to learn it from anybody in New Delhi or Nagpur (headquarters of RSS)," the CM said. 
Also read: Kerala has a unique way of protest, celebrates 'beef fest'
Minister for local administration KT Jaleel said the cabinet would discuss the issue and the state government would consider formulating a new legislation to overcome the Centre's cattle ban. The Centre is trying to impose the RSS's agenda of a uniform culture, CPM state secretary Kodiyeri Balakrishnan said in Kozhikode. 
The agenda of the BJP's recent Bhubaneswar party conference was "one nation, one culture and one party and the saffron party is trying to impose it through the cattle ban", he said. Opposition Congress-led UDF, meanwhile, decided to observe tomorrow as a 'black day' against the ban. 
Cow slaughter: Case against Youth Congress workers
Meanwhile, the Kerala police has booked some Youth Congress activists who publicly butchered a calf in Kannur to protest the Centre's ban on the sale of cattle for slaughtering as the incident drew flak from various quarters.
Also read: Kannur beef protests: Youth Congress' public calf slaughter finds no support
Kerala BJP President Kummanam Rajasekharan, who posted the video of the the gory incident on Twitter, called it "cruelty at it peak" and said no normal person can behave in this manner. CPM MP M B Rajesh said the illogical form of protest should have been avoided and it would only help the Sangh Parivar.
An embarrassed Congress sought to distance itself, saying the party will not support anyone who has violated the law, but Rijil, a Youth Congress activist who led the protest, said he had no regrets. The brazen act was committed in front of a huge crowd in Kannur on Saturday during the 'beef fest' held by the Left and Congress in Kerala to protest against the Centre's ban.
The NDA will observe a 'protest day' on Tuesday against the slaughter of the calf and against CPM state secretary, Kodiyeri Balakrishnan, for his alleged remarks against the Indian Army, Kummanam, said. Balakrishnan has stoked a controversy alleging that women belonging to minority communities were subjected to atrocities by army personnel in states where the AFSPA was implemented. 
(with PTI inputs)
Last Updated Mar 31, 2018, 6:36 PM IST