'Do you have the courage to organise beef fests in Delhi?' BJP chief Kummanam dares CPM
Reacting to beef fests, BJP's Kummanam Rajasekharan said such things would only happen in Kerala
"Yechury and Karat... do you have the courage to organise beef fests in Delhi?" the BJP leader asked
Over 200 beef fests were held in various parts of Kerala at the weekend by allies of LDF and UDF
Kerala CM Pinarayi Vijayan shot off a letter to PM Narendra Modi, criticising the ban on cattle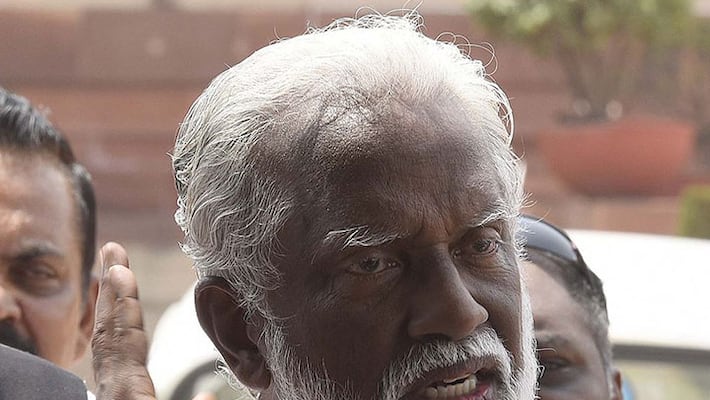 Stepping up his attack on the ruling CPM in Kerala for organising beef festivals, state BJP chief Kummanam Rajasekharan dared the LDF leadership to hold similar events in New Delhi in their protest against the Centre's ban on the sale of cattle for slaughter. 
"I wish to ask Sitaram Yechury and Prakash Karat... do you have the courage to organise beef fests publicly in front of AKG Bhavan in New Delhi? Why are you not doing it there?" Kummanam said in Kochi on Tuesday.
Also read: Kerala BJP leader courts controversy by posting 'fake photo' on cow slaughter
"These things can only happen in Kerala," Kummanam told a meeting organised by the NDA to protest the "anti-people" policies of the CPM-led LDF government in the state, which completed a year in office this month. 
Over 200 beef fests were held in various parts of Kerala at the weekend by allies of both LDF and UDF to protest the Centre's ban on the sale and purchase of cattle at animal markets for slaughter. 
Also read: Beef ban: 'Kerala does not need food lessons from Delhi, Nagpur', says Pinarayi
Kerala Chief Minister Pinarayi Vijayan has criticised the ban and shot off a letter to Prime Minister Narendra Modi, saying imposing restrictions on cattle trade will affect the country's secular ethos and millions of livelihoods. 
Ramesh Chennithala, Congress veteran and leader of opposition in the Assembly, said the people should resist the Centre's attempt to "dictate" their food habits.
(with PTI inputs)
Last Updated Mar 31, 2018, 6:55 PM IST