Cow slaughter, bishops, Kannur on Amit Shah's agenda for Kerala visit
Amit Shah is likely to slam the recent public slaughter of a calf by Youth Congress workers
The veteran BJP leader will meet bishops as part of his efforts to win over a section of Christians
Shah will undertake an in-depth analysis of BJP's organisational work in Kerala during his stay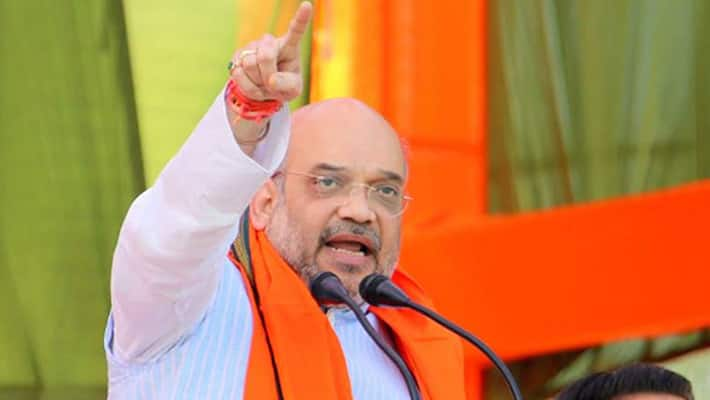 BJP chief Amit Shah is likely to slam the recent public slaughter of a calf by Youth Congress workers to consolidate his party's core constituency when he visits Kerala for three days starting on Friday.
The veteran leader will also meet bishops as part of his efforts to win over a section of Christians. Shah will meet bishops in Kochi on Friday, underlining BJP's efforts to build bridges with the minority community, which accounts for 18-20 per cent of votes in the southern state. The Hindu far right has often been at loggerheads with Christians over the hugely contentious issue of religious conversions. 
Shah is also expect to condemn the killing of an RSS worker, allegedly by CPM activists, in Kannur last month and criticise the Left front for the political violence in the district.
H Raja, the party's in-charge of the state, said the meeting is aimed at "understanding each other" and added that Shah will undertake an "in-depth" analysis of the organisational work in the state during his three-day stay. 
Also read: Restrain your comrades or be ready for BJP agitation: Amit Shah to LDF
The public butchering of a calf by Youth Congress leaders in the state last week to protest the Centre's ban on sale and the purchase of cattle at animal markets for slaughter has come handy for him and he is likely to target the Congress, which has been on the defensive over the issue. 
However, it will be a tricky matter for the party as beef is widely consumed in the state and a strident stand on the matter is unlikely to be of much help, especially while it attempts to woo Christians. 
The BJP has built alliance with smaller outfits representing different communities. It has also been trying to cosy up to KM Mani-led Kerala Congress (M), a former Congress ally that enjoys substantial following among Christians. 
Many BJP leaders believe that it is imperative for the organisation to win over a section of minority votes to emerge as a potent force in a state where Hindu votes are about 55 per cent. Muslims constitute about 27 per cent of the electorate. 
Shah will also hold meetings with BJP allies, leaders of various communities and influential people, besides interacting with organisation leaders to take stock of its work and lay out its future plans. 
Kerala is important in the BJP's strategy for the 2019 Lok Sabha elections as Shah expects to win a chunk of its 21 seats after the party increased its vote share substantially from six to 16 per cent in the 2016 Assembly polls.
(with PTI inputs)
Last Updated Mar 31, 2018, 6:33 PM IST