Amit Shah in Kannur: BJP to rally against CPM's 'red terrorism' as Mission 2019 begins
Amit Shah will kick off the 'jana raksha yatra' at 3 pm from Payyannur, Kerala CM Pinarayi Vijayan's hometown
The padayatra aims to expose the ruling CPM's "red terrorism" and "political fascism" in the state
The march is seen as the saffron party's push to emerge as a potent force in Kerala ahead of the 2019 Lok Sabha polls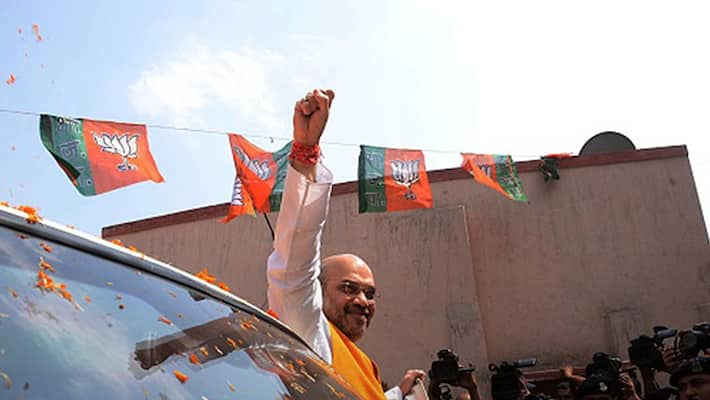 BJP chief Amit Shah will launch a 15-day statewide padayatra in Kannur on Tuesday, targeting the state's CPM government, with the BJP accusing the Left party of being on a "killing spree" against its workers. 
The 'jana raksha yatra' (people's protection march), which will be inaugurated at 10 am, aims to expose the ruling CPM's "red terrorism" and "political fascism" in the state. Several Union ministers will also participate in the march, led by state party chief Kummanam Rajasekharan. 
Shah will kick off the yatra at 3 pm from Payyannur, Chief Minister Pinarayi Vijayan's hometown, and it will wind through 11 of the 14 districts of the state before ending in Thiruvananthapuram on October 17. 
The BJP president is expected to be part of the yatra from Payyannur to Pilathara on Tuesday. Tight security, also involving senior police officers from the nearby districts, has been arranged in Kannur for the event.
Also read: Amit Shah to led BJP padayatra against CPM violence on CM Pinarayi's home turf
The BJP stated that Payyanur was chosen as the starting point of the march as it had witnessed a series of violent incidents of late. The party claims that as many as 120 RSS workers have been killed in the state, 84 in Kannur alone, since 2001, with 14 of them on Pinarayi's home turf since he took the reigns as CM last year.
At least one Union minister would be present on each day of the march. Ministers Ananth Kumar, Smriti Irani, Giriraj Singh, VK Singh, Dharmendra Pradhan and Prakash Javadekar among others would lead the yatra. Some BJP Chief Ministers are also expected turn up.
2019 general elections
The march, which would be part on foot and part in vehicles, is seen as the saffron party's push to emerge as a potent force in the state ahead of the 2019 Lok Sabha polls. 
Always a marginal force in the southern state, the BJP has steadily gained in strength there since 2014 Lok Sabha poll, when it fetched over 10 per cent votes, and got close to 15 per cent of vote share in the assembly poll in 2016. It won only one seat but it was its maiden entry to the Assembly. 
With the CPM-led LDF and the Congress-led UDF being two entrenched political forces in the state, the BJP believes it can surprise its rivals in a triangular contest if it manages to push its vote share beyond a threshold. It has already allied with some smaller outfits in the state, such as the BDJS. 
Last Updated Mar 31, 2018, 6:53 PM IST