This is the man who impressed Sharjah ruler with a painting
Habeeb Rehman is a resident of Taliparamba in Kannur district of Kerala
Habeeb impressed Sharjah ruler with his life-like portrait and the Sheikh took it back with him to Sharjah
Habeeb has adorned various roles across multiple areas including as an actor, art director, cartoonist, animator, designer, model etc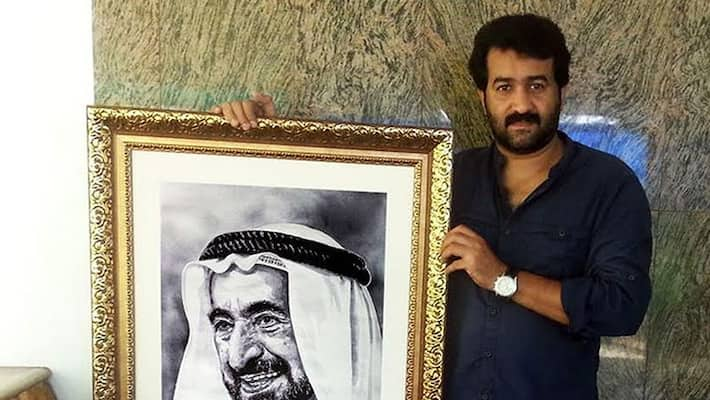 "You have to dream before your dreams can come true." - Dr. A.P.J Abdul Kalam
His own life story prompted these golden words from Dr. Kalam. Habeeb Rehman, a resident of Taliparamba in Kannur district of Kerala - India, also nurtures similar dreams in his heart.
An artist, whose world has always revolved around colours and drawings right from childhood, feels most proud in that moment when his art is acknowledged by patrons. It only feels sweeter when your work is appreciated by someone who is also the ruler of a state.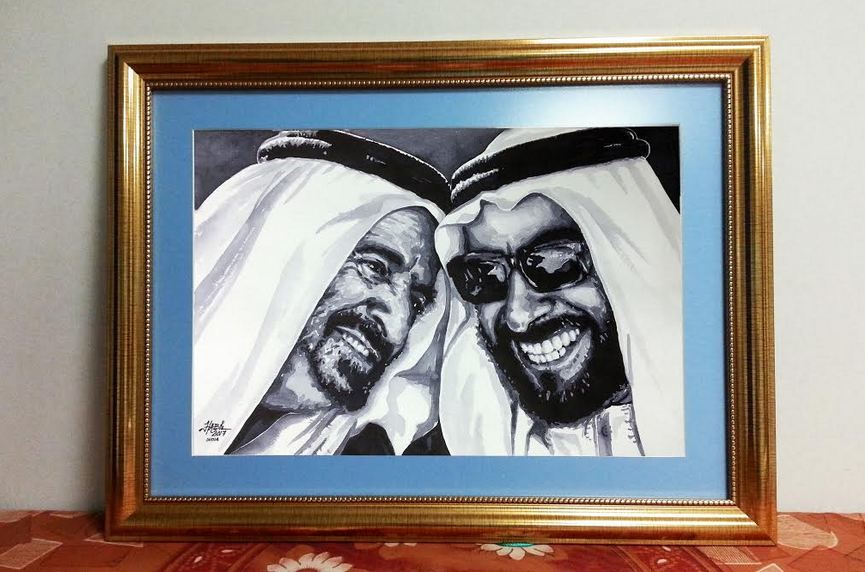 When Habeeb Rehman heard about the impending visit to Kerala of the Sharjah Ruler His Highness Dr. Sheikh Sultan Bin Mohammed Al Qasimi, he drew a splendid black and white water colour painting of the Sheikh within a short period. His aim was to gift this special portrait to the Sheikh in person. Though protocol issues prevented him from doing so, Habeeb still received the opportunity to display his painting at the Cliff House welcome party arranged by the Kerala Chief Minister for the Sharjah ruler. The Sharjah ruler was so moved by his own life-like portrait that he was instantly ready to take it back with him to Sharjah, despite its considerable dimensions of 36 inches height and 28 inches width. For an artist, this moment was one such that would induce much pride and happiness. The beauty of the portrait was a testament to his abilities.
Habeeb Rehman, who is also known as Habi, has adorned various roles across multiple areas including as an actor, art director, cartoonist, animator, designer, model etc. He is also the official designer for many leading firms based in India and the U.A.E.
With a graduation degree in Fine Arts, Habeeb has been active in the world of art since his childhood. He has worked as a designer for many film-based publications. He has also undertaken pre-production activities for many movies and ads. For the past 15 years, he has also been involved in the area of storyboard creation.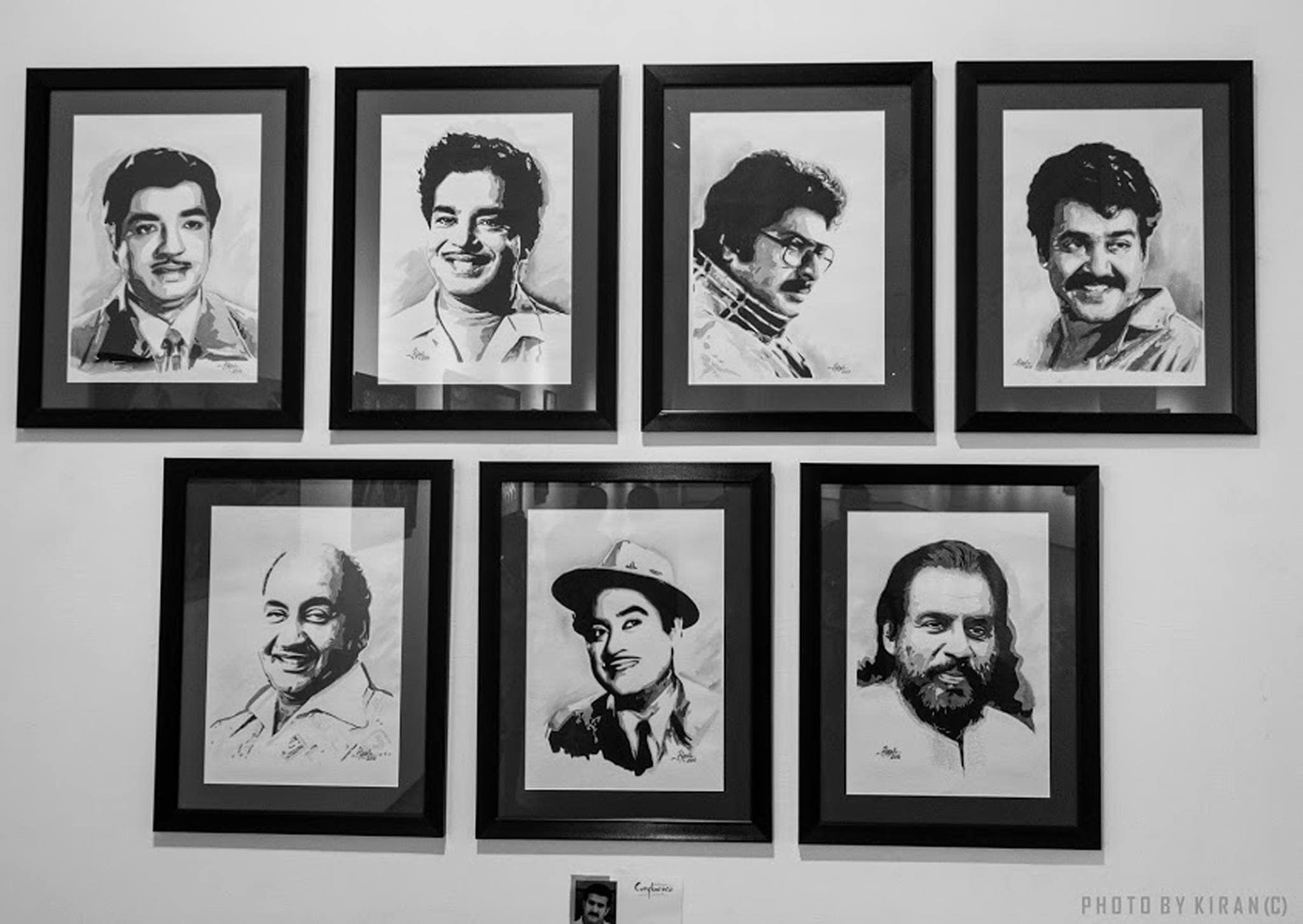 Similar to how writers find their voice in the written word, an artist breathes and lives in colours and sketches. Habeeb Rehman has a dream. A dream that is still far away from fruition.. a dream that this young man has been furiously working to achieve.
The Sharjah International Book Fair is a prestigious literature event that was first started in 1982. Under the able and benevolent leadership of His highness  Dr. Sheikh Sultan bin Muhammad Al Qasimi, ruler of the emirate of Sharjah and member of the U.A.E's Supreme Council, the Sharjah Book Fair has completed 35 years and has grown in stature to be the 3rd largest book fair in the world. This 11-day book exhibition, which will be inaugurated on Nov 1, will have 1800 literary figures from over 60 countries participating with around 15 lakh books being put up for sale. Renowned author Peter Frankopan, activist and author and Booker Prize winner Arundhati Roy, poet and lyricist Gulzar are among the 200 celebrities expected to attend the event this year.
It is at this famous event that Habi hopes to bring his dream alive. His aim is to present a series of around 15 paintings of the U.A.E. royalty as part of the exhibition. At a time when painters around the world prefer to work in colours, Habi stands apart by embracing the old-world charm of monochrome B&W paintings.
Being able to gift the Sharjah Ruler, who is a gifted painter himself, a portrait of His highness was just the first stepping stone to success for Habi.
The first painting that Habi's hands created in this series featured beloved H.H Sheikh Zayed bin Sultan Al Nahyan father of nation, together with beloved H.H Sheikh Rashid bin Saeed Al Maktoum, the first ruler of the emirate of Dubai. U.A.E was founded as an independent monarchy on Dec ember 2, 1971 under the leadership and guidance of both the Abu Dhabi and Dubai rulers. Therefore, a painting featuring both of the much loved Sheikhs has tremendous importance. This painting was initially planned to be showcased on Ramadan 19th which also marked the death anniversary of Sheikh Zayed. But as the anniversary function did not happen, Habi's dream was also put on hold.
A portrait of the current President of U.A.E and ruler of Abu Dhabi H.H Sheikh Khalifa bin Zayed Al Nahyan, was the second painting that Habi completed in that series. The portrait of H.H Sheikh Mohammed bin Rashid Al Maktoum, ruler of Dubai and a dynamic leader, has also been completed.
The Sharjah ruler H.H Sheikh Dr. Sultan bin Muhammad Al Qasimi also features prominently in this series of royal paintings. The Sheikh is an established historian and has published several theatrical and literary works. He has authored 40 books and is famously referred to as the Prince Of Books.
Habi has also painted portraits of H.H Sheikh Mohammed bin Zayed Al Nahyan Crown Prince of Abu Dhabi, Ajman ruler H.H Sheikh Humaid bin Rashid Al Nuaimi, Fujairah ruler H.H Sheikh Hamad bin Mohammed Al Sharqi, Ras Al Khaimah ruler H.H Sheikh Saud bin Saqr Al Qasimi, and Umm Al Quwain ruler H.H Sheikh Saud bin Rashid Al Mu'alla.
Habi has been patiently waiting for an opportunity to exhibit these 15 paintings of the U.A.E royal families. If he is able to achieve this dream, he would probably be the first Malayali artist to do so. Habeeb Rehman waits to this day to have his dream come true.
Article by Anila Binoj.
Last Updated Mar 31, 2018, 6:58 PM IST