VIDEO: BBMP corporator tries to commit suicide in front of police, blames police and land mafia
Bommanahalli BJP member, Coporator Mohan Raj tried to allegedly commit suicide in front of the police officers
Mohan has alleged that he was being harassed in the issue of a land he claims as his, from two years.
Police personnel have forcibly removed the Bescom meter installed inside a shed in my land, said Mohan Raj
Here is the matter with complete details and video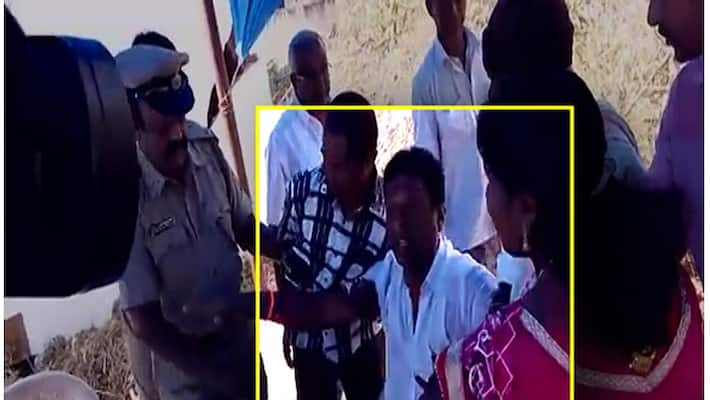 Bommanahalli BJP member, Coporator  Mohan Raj tried to allegedly commit suicide in front of the police officers, blaming the land issue to be the cause.
Mohan Raj poured kerosene on his body at Arakere ward, when the police stopped him. Mohan has alleged that he was being harassed in the issue of land he claims as his, from two years.
He also alleged that the police was hand in gloves with the accused Mahesh Dayal who is into real estate business of trying to encroach upon 20 guntas of land belonging to him. Police personnel have forcibly removed the Bescom meter installed inside a shed in my land, said Mohan Raj.
"Two years ago a case was filed by the accused Mahesh Dayal and had said that Mohan could not trespass the land. The case was challenged in the court, and the verdict was in favour of corporator Mohan Raj. Despite the court order Mahesh is harassing me, Mohan said.
"In addition, he also said that the police had created fake documents in this regard. They also have a fake sales deed of this land," he said.
The land is registered in the name of Mohan Raj; he has all the documents including khata, betterment charges and also tax paid receipt.
"The wife of the accused real estate agent has cheated the court. The wife has gone to the court posing as a lady who was cheated by a man (her husband who is a real estate agent). As she did not have any documents, in a witty move she got sales deed documents from the court. Now, with that document the husband and wife are not allowing me to enter the premises of my land," said Mohan Raj speaking to Suvarna News.
"I have the video recording of the police personnel removing the Bescom meter from the shed inside the land. When asked by my supporters, the police is said to have told them that they have got orders from the higher-ups, but refused to disclose their names," Mohan Raj added.
Last Updated Mar 31, 2018, 6:51 PM IST