Gauri Lankesh was married to Chidanand Rajghatta the foreign opinion columnist
They got divorced later but remained good friends
Here is how Rajghatta expressed his condolences over the murder of Gauri Lankesh on the Facebook
Here is how ex-husband and a friend Chidanand Rajghatta reacted to the murder of Gauri Lankesh on his Facebook.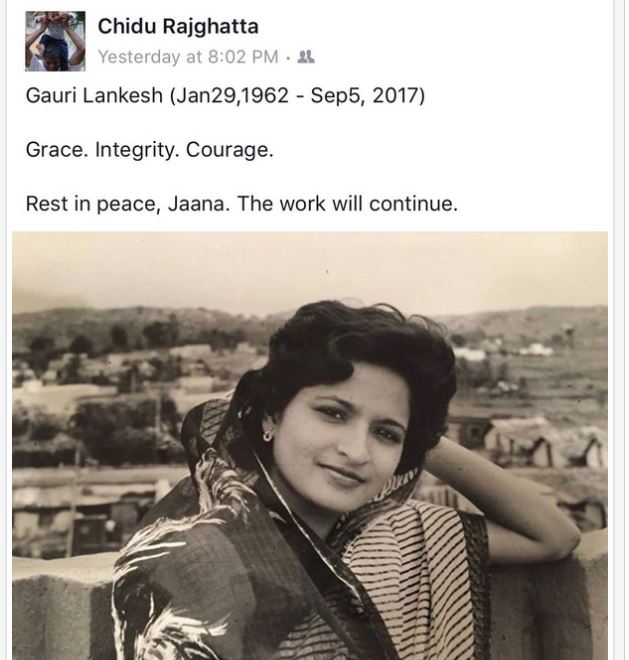 Chidanand Rajghatta and Gauri Lankesh knew each other for decades before getting into the wedlock. They were schoolmates and then colleagues too. Sources say that they were married before 1980 and were in a relationship for an unknown period. However, the couple got divorced later. But they remained best of friends. These posts are a witness to this fact.
Chidanand Rajghatta currently works as a foreign opinion columnist and a United States liberal blogger for the Times of India. Whereas Gauri Lankesh was running the Gauri Lankesh Patrike, a tabloid, which was strong on views related to anti-social elements and opinionated on the happenings in the country.
ALSO READ: Murder conspiracy theories: Who killed Gauri Lankesh?
ALSO READ: Gauri Lankesh murder: India continues to be one of the most dangerous countries for journalists in the
ALSO READ: Gauri Lankesh murder: 'We will kill you,' journalist had received death threat a month ago
Last Updated 31, Mar 2018, 6:52 PM IST