Life comes to a full circle to 'Nightingale' S Janaki as she bids adieu to singing in Mysuru
It was in Mysuru in 1952, S Janaki gave her first public performance with the legendary singer PB Srinivas
She has over 48,000 songs in 17 languages to her credit
'Sri Krishna Garudi' was the first Kannada movie to which Janaki gave her voice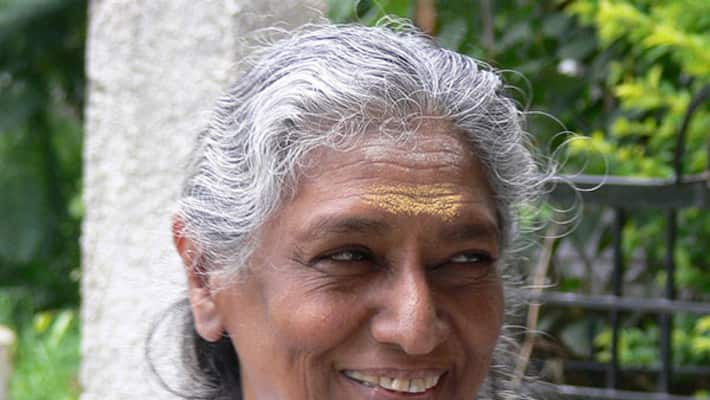 'Nightingale' S Janaki (80) who has been enthralling with her mellifluous songs for over six decades in many languages will bid aideu to the singing in Mysuru today. The singer who shares an emotional bond with the City of Palaces, will give her last public performance at the Ampthitheatre in University of Mysore campus. Incidentally, it was in Mysuru, Janaki had given her first public programme. She along with the legendary singer PB Srinivas had performed in 1952.
Last year 'Janakamma' as she is endearingly addressed, had bid good bye to film songs. Now, she is giving up singing completely much to the disappointment of music lovers. Some of tracks like 'Yuga Yugadi Kaledaru', 'Gaganavu Ello Bhoomiyu Ello' and 'Keliddu Sullagabahudu' were all-time hits in Karnataka. Her 'Olavina Geleyane Ninage' from the movie 'Naniruvude Ninagagi' is still considered one of the most romantic songs in Kannada movies.
"Mysuru is very close to my heart. I share an emotional bond with the city. Four years ago, I climbed the Chamundi Hill steps along with my children to seek the darshan of Goddes Chamundeshwari. After my 1952 performance, I never performed in Mysuru. It was a long-pending wish to treat Mysureans and the day has finally come. This would be my last public performance," Janaki told Vijayavani.
Born in Guntur district, Janaki was fond of singing. She debuted as a playback singer in Tamil movie 'Vidhiyin Vilayattu' in 1957. In the same year, she debuted in Kannada movies too. 'Sri Krishna Garudi' was the first Kannada movie to which Janaki rendered her voice. Not just in Kannada or Tamil, Janaki was a popular singer in other South Indian languages too. Besides, she has also sung in 17 languages including in Sinhali, Japanese, Latin and Arabic languages, too. In her career spanning over 59 years, Janaki has sung over 48,000 songs.
The University of Mysore has conferred a honorary doctorate on Janaki. She has also been bestowed with various awards.  
Last Updated Mar 31, 2018, 6:46 PM IST