Woman police officer caught in rice pulling scam, cheat a farmer of Rs 17 lakh
A woman police officer along with a male inspector have been caught in the rice pulling scam
They had cheated a Bellary man to the tune of Rs 17.5 lakh, promising with Rice Pulling tool
The Central Zone IG has IG has directed the officers concerned to cancel promotion benefits of the accused
The High Court also has stated that further probe must be conducted against the two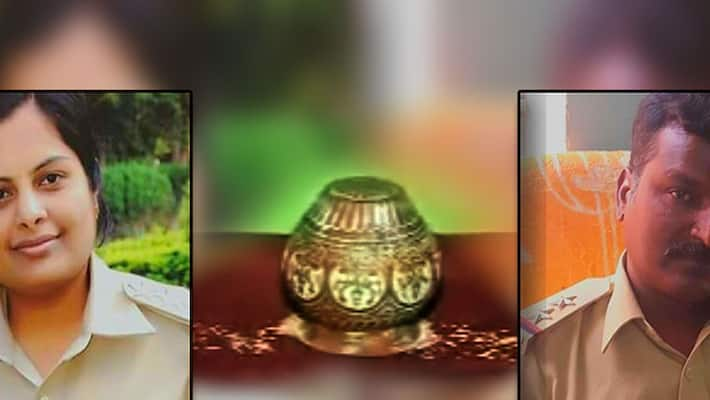 A woman police officer along with a male inspector have been caught in the rice pulling scam, cheating a Bellary man of Rs 17.5 lakh.
Kanakalakshmi, an inspector at the Shivajinagar Police Station for women and CID Inspector Nadaf have been caught in the rice pulling scam. Both police officers joined hands with Daba Rajanna to sell the (virtual) rice pulling machine or tool to Sudhakar Reddy of Bellary.
The scam occurred when Kanakalakshmi and Nadaf were posted in the Sira police station. The charges against them were proved following the probe by the department.
The complaint has stated that the inspector duo spoke to Sudhakar Reddy and promised him to give the rice pulling tool and took Rs 17.5 lakh from him.
Following the probe, the Central Zone IG Arun Chakravarthy has directed the officers concerned to cancel promotion benefits. The High Court also has stated that further probe must be conducted against the two police officers found guilty in the scam.
Here is one of the numerous videos available on rice pulling on the YouTube:
What is Rice Pulling?
It is being said that the Rice puller metals are made out of Copper alloys or Copper Iridium metal which have a magical capability of pulling grains like rice. As seen in the above-mentioned video, it is said that the tool attracts rice. But the legal uses of it are not mentioned.
The legality of the availability of such tool is also not known. That is why it might still be a scam. Earlier reports to have claimed that many people have cheated various people to the tune of crores in the promise of the heavenly, mysterious object which can pull rice.
The words heavenly or mysterious are added as it is said that the tool should not come in touch with any electric item or even thunder and lightning.
From Tumakuru to Kashmir, many people have been cheated with rice pulling scam.
Last Updated Mar 31, 2018, 7:04 PM IST