BJP leaders get earful from Prakash Javdekar for poor show at 'Parivarthan Yatra'
Union Minister and State in-charge Prakash Javdekar held a meeting of BJP leaders at the party office in Malleswaram
He sought reasons for the apparent failure of inauguration of 'Parivarthan Yatra' in Bengaluru
Former deputy minister R Ashok has listed out reasons for the mismanagement of the event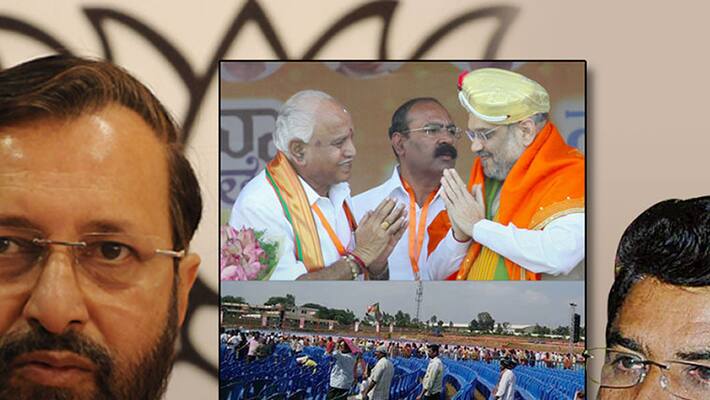 Seemingly worried over the apparent mismanagement during the inauguration of the BJP's 'Nava Karnataka Parivarthan Yatra', Union Minister and Karnataka in-charge Prakash Javdekar has reportedly taken Karnataka BJP leaders to task during his meeting in Bengaluru on Wednesday.
It is reported that Javdekar has sought a report from former deputy chief minister R Ashok on why the event was "terribly" mismanaged.
Also read: BJP Parivarthan rally: State BJP leaders get a slice of Shah's fury as empty chairs greet him
It may be recalled here that there were reports about the poor show of what was supposed to be the grand launch of BJP's poll campaign in Karnataka, where it is trying to come back to power.  Right from the choice of venue to ensuring party workers' presence, the BJP's grand poll campaign launch was not without a few glitches. It may be recalled here that the traffic had come to a halt on the Bengaluru-Tumakuru  highway due to the programme. There were reports that BJP National President Amit Shah too had to arrive late to the programme as the vehicle that was expected to pick him up, could not reach the airport in time. Besides, there were allegations that the State party leaders could not gather party workers for the programme. This was noticed by the party brass and now it was on a mission to find reasons for what went wrong.
According to Suvarna News, BJP leader R Ashok has submitted a report citing reasons for the mismanagement of the programme. While it is not clear the reasons listed by Ashok for the poor show, it is reported that the party has taken a serious note of it and has asked the leaders to ensure not to repeat such blunders.  
Last Updated Mar 31, 2018, 6:35 PM IST