Parvathamma to be buried next to Dr Rajkumar [Watch Live]
Parvathamma's family has decided not to have the public viewing of the body at Poornaprajna Maidan
The body will be kept for the last viewing at Kantheerava Stadium after 4.30 PM
Her last rites will be held at Kantheerava Stadium at 6 PM with state honours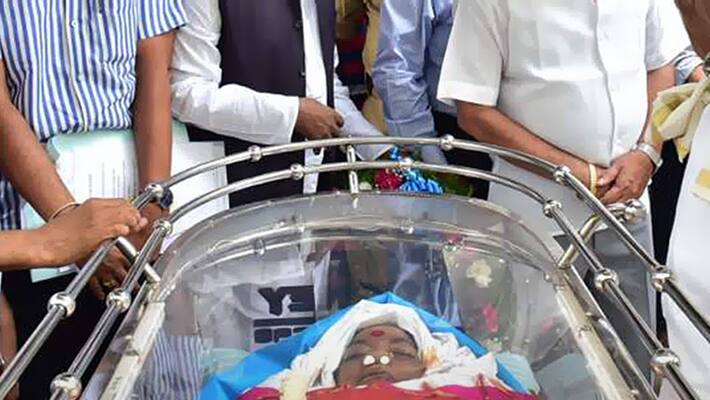 Parvathamma Rajkumar is no more. She breathed her last at 4.40 am today. He body will be buried next to Dr Rajkumar's memorial.
People can view Parvathamma's body for the last time at Kantheerava Stadium in Bengaluru. The family had earlier said that the body would be kept for public viewing at Poornaprajna Maidan in Sadashivnagar.
On behalf of the family, SaRa Govindu, President of the Karnataka Film Chamber of Commerce requested the people not to visit the Poornaprajna Maidan. But as decided by the family, the final viewing of the body will be held at Kantheerava Stadium at 4.30 pm.
ALSO READ: Karnataka in shock as Dr Rajkumar's wife Parvathamma passes away
Meanwhile, dignitaries and friends are visiting the Rajkumar family. After paying his last respects, Chief Minister Siddaramaiah said that Parvathamma's death was a huge loss to Karnataka. She had introduced many actors to Kannada film industry, and she played an important role in Dr Rajkumar's success. Parvathamma's final rites will take place with complete state respects, the CM said.
The final rites will be performed at 6 pm today.
Also Read:This is why Dr Rajkumar said "Parvathi is my Lady Luck"
Watch Live video here:
Last Updated Mar 31, 2018, 6:58 PM IST