National Bird Caged For Religious Purpose, CID Forest Cell Returns Empty Hand From The Raid
National Bird Peacock which is suppose to moving freely is kept under captive.
Eight peacocks have been kept in Dargah at Channapatna in Bengaluru outskirts.
CID forest cell team were outnumbered by devotees and dargah members and hence returned empty handed from the raid.
The officials told the dargah authorities not to keep the birds in cages.
The dargah authorities say, the birds are kept in cages to protect from dogs and humans
Now,CID will visit the same place next month and take away the birds.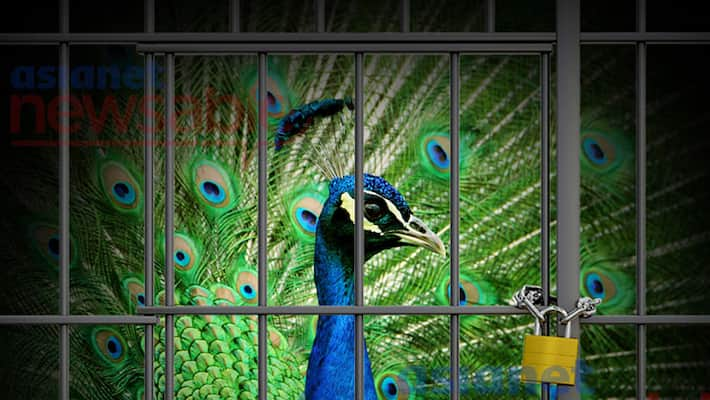 Peacock the national bird that is covered under schedule (1) of Wildlife protection act is craving for its freedom to move around freely and fly as a Dargah authorities in Bengaluru outskirts have caged them for religious practices.
Based on the tip off from wildlife enthusiast, the Bengaluru CID forest Cell headed by Deputy Superintendent of Police, Balrame Gowda and team raided at Adil Shah Quadri Dargha in Channapatna and found 8 peacocks in the Dargah premises.
The sources had told the CID that the peacock feather has a value among Muslim community that believes in ancestors and their blessings.   And that may be the reason the National birds which is suppose to move freely have been kept in cages.
"The Dargha people are not aware of any wildlife rules and they just go by religious sentiments. But they say they have licence. For few animals and birds wildlife department can give permission to be kept, but they should under captive. We have made them understand about these rules and asked them to furnish the permission letter," Said, Balrame Gowda, DySP, CID Forest Cell.
The officers were suppose to take the birds  into their custody and release into the wild or at conducive habitat came back empty handed  fearing the seizure may lead to animosity and later asked Range Forest Officer of Channapatna to verify the permission letter and then the birds into the custody if necessary.
"Two members from Dargah approached us and told that they had not captured the bird, but the birds came to Dargah premises on their own few years ago. To protect it from stray dogs and from eople, they had to be kept in big cages. They said they will show the documents like permission letter and will release the birds from cage," said senior officer from CID said.
The officials are now planning to visit the place with more number of police and officials from forest department after Ramzan festival and will seize the birds. "Since few members in Dargah were arrogant the raid could have turned ugly and it would have created religious tension. The Range Forest Officer has of Channapatna has been informed to keep in touch with Dargah committee members. We are now planning to visit the place next month and will take away these birds," said another official.
Last Updated Mar 31, 2018, 6:57 PM IST