2.5 lakh people throng Krishi Mela
The second day of Krishi Mela attracted 2.5 lakh visitors. Sahival breed cows, originating from Sahival, Pakistan, was the main attraction
The Kadaknath hen finally made it to the Mela. Hailing from Madhya Pradesh, these hen lays 80 eggs per annum
Bengaluru Agriculture University retired chancellor Dr Narayana Gowda urged the governments to make farming profitable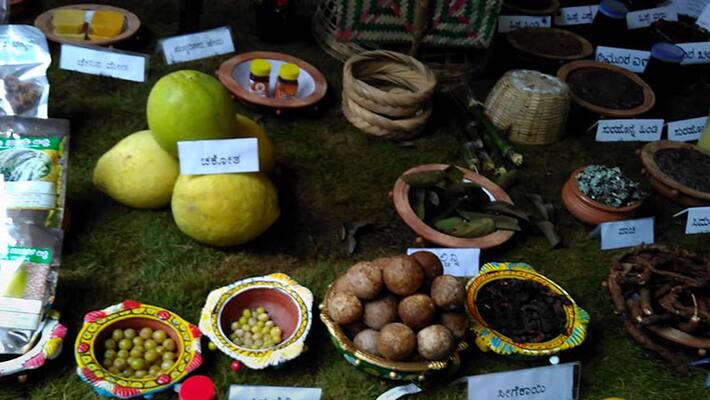 The second day of Krishi Mela attracted 2.5 lakh visitors in Bengaluru. Sahival breed cows, originating from Sahival, Pakistan, was the main attraction at the animal husbandry division. They are commonly raised in Rajasthan and Punjab. They are known for adjusting to any weather condition and contain higher degree of resistance to diseases. Sahival cow gives as much as 15 to 20 litres of milk per day. Once they give birth to calf they can produce as much as 1,600 to 2,750 litres of milk. The milk from this cow sells at Rs 80 to Rs 100 per litre. Its ghee is sold at Rs 2,000 for one kg. The female calf is sold for Rs 35,000 to Rs 45,000. The two cows that were at display at the Mela was priced at Rs 1.20 lakh each. Farmers were more interested in this breed.
Sahival cow
The Kadaknath hen with black meat and black blood finally made it to the Mela. Hailing from Madhya Pradesh it lays 80 eggs per annum. They have higher protein and lesser cholesterol. An officer from the Veterinary Department explained that these hen have 18 Amino acids, B2, B6, B12, C and E vitamins. People took selfies with this hen.
Bagalkot Horticulture University chancellor Dr D L Maheshwar gave a call to the farmers to step up to the changes in farming practices. Speaking at the awards ceremony, he said agriculture knowledge must be upgraded according to times. He appreciated the Krishi Mela for bringing technology close to farmers.
Bengaluru Agriculture University retired chancellor Dr Narayana Gowda said the farmers are undergoing difficult times due to acute shortage of water and heavy burden of loans and to resolve the issues they must place significance on integrated farming practices. He also urged the Central and State governments to provide more for agriculture in the budget to make farming profitable.
Kenchegowda from Mysuru, JC Nagaraj from Chamarajnagar and Nagarathna from Chmarajanagar received progressive farmer and Raitha Mahile awrads. The agriculture scientist from Bengaluru Varisty launched the website www.climatesmartfarming.in
Last Updated Mar 31, 2018, 7:04 PM IST