Ignored by state government, acid attack victims seek help in Chennai
State government had announced Rs 20 lakh for the surgery of acid attack victims
But the lack of clarity and unnecessary conditions in the order has deprived many patients
Victims need to provide ID proof, FIR copy and also a letter from the doctor certifying their injury
A free surgical treatment at Chennai has come as blessing in disguise for these victims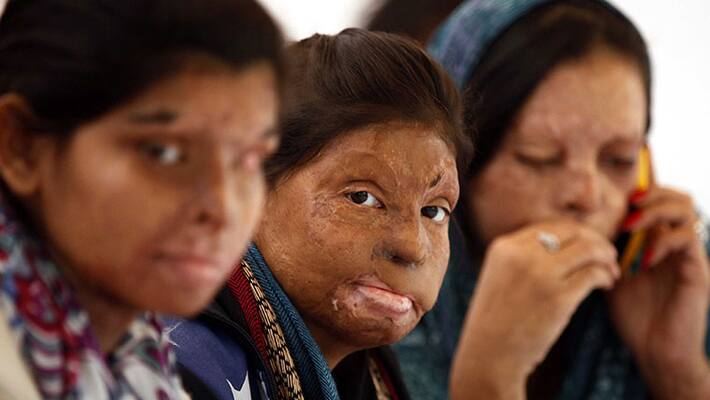 There seems to be no hope for the acid victims in the state as most of them are banking on Chennai for their recovery. No, not because there are no good doctors in the state but the sheer apathy of the state government is forcing them to seek help from the neighbouring state.
When the state government had announced Rs 20 lakh for plastic surgery for acid attack victims, it was the most gratifying moment for majority of the victims who had been fighting for it since decades. They thought their fight had finally bore fruit. But little did they realise the strictures that came with the government order.
Two years ago, the state government had issued orders to provide Rs 20 lakh towards the plastic surgery. However, till now only two victims have been able to obtain this facility, thanks to the contradictory that galore the order, reports Vijaya Karnataka.
As per the order, it was mandatory for the victims to provide a letter from the doctors certifying their condition, a copy of FIR, identity card, residential proof and bank details to the Women's Commission. After reviewing, the panel would recommend the state government to release the funds. But sadly, the panel has rejected as many applications reasoning lack of required documents, reports Vijaya Karnataka.
The acid attack victims need at least 15 lakh for their surgery and sometimes, the cost may escalate depending upon their injury. Although the government has issued an order to help the victims, it has failed to provide clarity on the eligible victims, rue Jayalakshmi, an acid victim from Huliyaru in Tumakuru district, reports Vijaya Karnataka.
For, the officials are now considering only the new victims (since the order issued) and there is no hope for those who are living with the scars. So far, only two victims have been able to avail the facility.
Frustrated with the government's apathetic attitude, the victims are now going to Tamil Nadu as a free surgery camp is conducted frequently. At least five victims - Sumana from Sringeri, Mariya and Thippamma from Bengaluru, Jayalakshmi fromm Tumakuru and Mujiba Banu of Hassan - are being treated in Chennai. The local organisation is reportedly taking care of these victims in their own expense.
"The government's promise to help us remains only on the paper. We are frustrated with the administrative necessities to clear our request. It is unfortunate that even women leaders in the Congress government have failed to understand our pain," reports Vijaya Karnataka quoting a victim.
Already suffering the scourge, the victims feel that the state government's order was just an eye wash. Is there a safety for the victims who file an FIR to make her eligible for the relief? Still, aren't injuries proof enough to receive the help? Instead of burdening us more with restrictions, it would be better if the state government approached their problems with more humaneness.
Last Updated Mar 31, 2018, 6:59 PM IST