Meti sex CD victim Vijayalakshmi attempts suicide with sleeping pills
Vijayalakshmi had alleged that the minister had sexually harassed her
A CD which had visuals of Meti in a compromising position with Vijayalakshmi had gone viral then
While the CID has given clean chit to Meti, the investigation is still on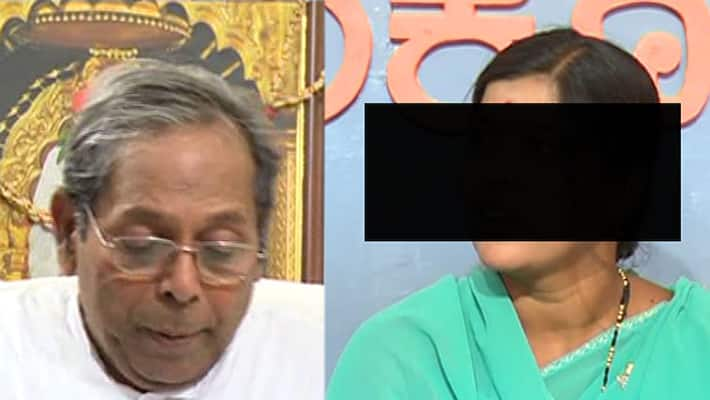 Day-by-day, the sex CD case involving former minister HY Meti is taking new twists and turns. On Sunday, the victim in the case, Vijayalakshmi, attempted suicide by consuming sleeping pills. Vijayalakshmi was rushed to Bagalkot district hospital and she is being treated by the doctors. 
Vijayalakshmi had been under a threat to her life since the sex CD scandal broke out. "She was frustrated with the whole incident. Unable to take it anymore, she attempted suicide by taking 20 sleeping tablets," reports Suvarna News, quoting Vijayalakshmi's family members.
It may be recalled that Vijayalakshmi had alleged that former minister Meti had sexually harassed her. Visuals of Meti in a compromising position with Vijayalakshmi had gone viral, leading to Meti's ungraceful exit from the cabinet.
While the CID inquiry gave a clean chit to the minister, the investigation has thrown up some sensational details. The latest being the alleged link between Santhosh, the personal assistant of BJP leader BS Yeddyurappa, and Rajashekhara Mulali, the RTI activist who broke the sex CD scam. These startling details have come to light when the police were investigating the kidnapping attempt on BJP leader Eshwarappa's PA Vinay.
Reportedly the police found that Santhosh - who is now being grilled in the kidnap case - was in constant touch with Rajashekhara Mulali. However, the police have not yet established how Santhosh and Rajashekhar knew each other.
With Vijayalakshmi attempting suicide and no news of Subhash, the gun man of Meti, who has gone missing since the scandal broke out, the case is growing more curious.
Last Updated Mar 31, 2018, 6:51 PM IST