The City police have sought details from the lodges and paying guest homes if anyone has left after September 5
But the sim cards of those eight numbers have strangely been disconnected after the murder
The police have reportedly quizzed former dons Agni Shridhar and Muthappa Rai
With no definite leads so far in the Gauri Lankesh murder case, the investigating officials are now seeking help from the lodges, hotels and paying guest accommodation centres. They are enquiring if anyone had vacated the premises on the day of the killing in the following week of murder. Journalist and activist Gauri Lankesh was killed in a cold-blooded murder at her house on September 5.
This comes in the wake of rumours that the police are exploring whether the killers were from Bengaluru or from outside Karnataka. There have been reports that the killers had made a recce of Gauri's residence at least thrice on the same day she was killed. To connect the dots, the police are now exploring whether the killers had stayed near Gauri's house or in the surrounding area.
The hand-out released by the city police has provided the telephone numbers and email addresses of the police on which the owners of these accommodation facilities could share the information of those who may have moved out after September 5.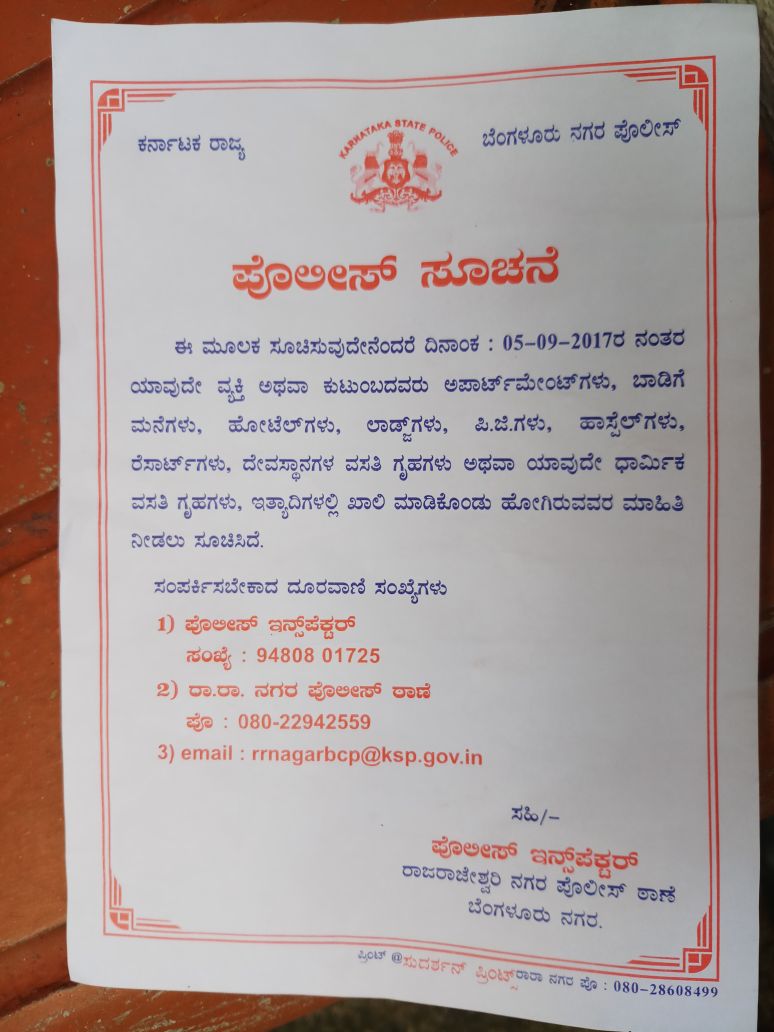 Meanwhile, the investigating officers had stumbled on a fact that the at least eight persons were on conference calls around the time when the journalist was gunned down.
Out of the 25 lakh calls that were traced from Gandhinagar to Rajarajeshwari Nagar - on September 5 - the SIT has found that at least eight calls were on conference call mode. However, the team which went after these eight numbers has reportedly found that the sim cards of these eight numbers have been deactivated after Gauri Lankesh was killed. Besides, it is reported that these eight sim cards were purchased with fake identity proofs.
Meanwhile, the investigating officials have also quizzed former dons Muthappa Rai and Agni Shridhar in the case. According to News Karnataka, Rai told the investigating officers that he was in Puttur on September 5. Agni Shridhar told a news channel that the SIT did not question him instead he gave "some clues" that could help them crack the murder.
Last Updated 31, Mar 2018, 7:04 PM IST