After Parrikar win, Congress relieves Digvijay Singh of charge in Karnataka, Goa
Singh had been under criticism for having failed to perform in the elections and secure a coalition
After the Goa debacle, Singh had accused Parrikar of having cheated the people of the state by "robbing the mandate"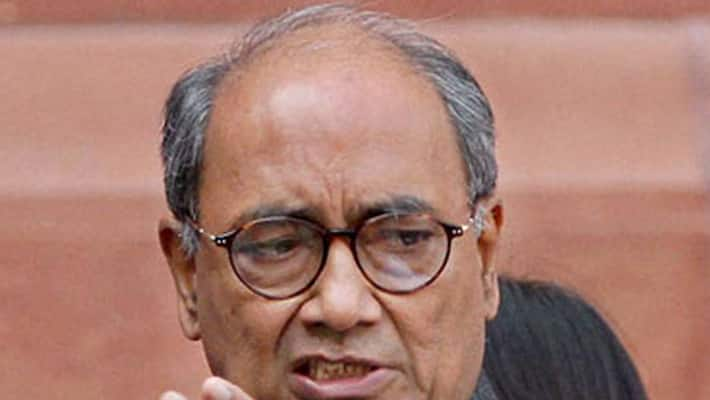 The development follows Congress' failure to form its government in Goa despite having emerged as the single largest party in the assembly election this February. "Congress president Sonia Gandhi has assigned the tasks of looking after Karnataka and Goa affairs to new AICC teams. While K C Venugopal has been made general secretary in-charge of Karnataka, A Chella Kumar has been made AICC in-charge of Goa," party general secretary Janaradan Dwivedi said in a statement.
Earlier there were rumours  that after failing to form a government in Goa and Manipur, the Congress party had decided to replace master strategist and senior leader, Gulam Nabi Azad as Karnataka Congress In-charge.
The party had clinched 17 seats in the 40-member legislature, four more than the BJP, which managed to cobble together a majority with local parties to form its government under Manohar Parrikar.
Singh, considered close to Congress vice president Rahul Gandhi, had come under severe criticism for going slow in initiating talks with smaller parties to sew up a coalition and stake claim to form a Congress-led government. The former chief minister of Madhya Pradesh will, however, continue as general secretary in-charge of Andhra Pradesh and Telangana.
Singh has been one of the most vocal Congressmen advocating Rahul Gandhi's elevation as party president. "I am happy finally new Team is being picked up by Rahul ji. I enjoyed working with Congress Leaders and Workers in Goa and Karnataka. Convey my gratitude for all their support," Singh said.
"I am loyal to the Party and Nehru Gandhi Family and owe my position to the Party and to them," he said in a series of tweets.
After the Goa debacle, Singh had accused Parrikar of having cheated the people of the state by "robbing the mandate". He had alleged Union Minister Nitin Gadkari, who was despatched to Panaji by BJP president Amit Shah to explore ways of forming a government, indulged in "aggressive MLA shopping" to retain power.
Parrikar had shot back and taunted Singh for Congress' failure to form government.
"My special thanks to honourable member Digvijay Singh, who happened to be in Goa but did nothing so that I could form the government," Parrikar had told Rajya Sabha while making sarcastic comments against Singh.
Last Updated Mar 31, 2018, 7:00 PM IST