Biju Nayak, a construction labourer, had said that he was abducted
Then he changed his statement and said he did this for the blessings of Goddess
With his tongue sliced off and private part cut, he is being treated in a private hospital
When he was admitted to the hospital, his first statement had said that he was kidnapped by unidentified people who sliced off his tongue and cut his private part. But now he has changed his statement, "I did it because I wanted to get blessings of the Devi (Goddess)," said Biju to the police recently.
Speaking to Kannada Prabha, Whitefield DCP Narayan expressed doubt that he might have lost his mind. "He keeps changing his statement. He might not be in a state to think straight now. We will question him when he recovers," he said.
If he was abducted, we would continue the investigation. But if his statement remains the same and he holds himself responsible for whatever happened, we will not have to conduct further investigation. We will take the further step only after taking his statement once he recovers, he added.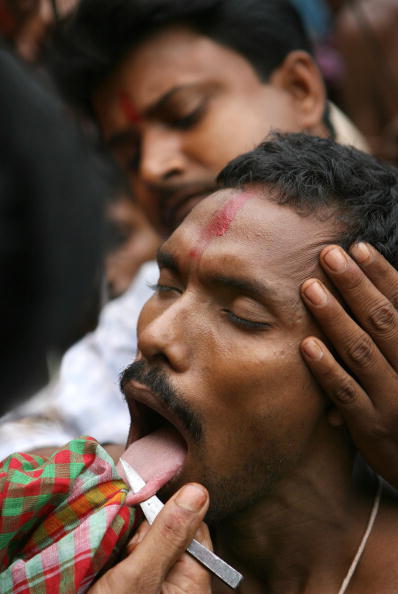 Biju is from Odisha and had come to Bengaluru in search of a job. He was working as a construction labourer. He was residing at a shed in Immadihalli in Bengaluru with his brother.
According to Biju's brother, he went out to pass urine at night on May 16 and did not return to the shed for a long time. Though he searched for Biju, there was no trace of him. Tired, Biju's brother came back to the shed and slept, thinking he will come back. But Biju came back only the next day and told that some mask-wearing persons had abducted him and sliced off his tongue and cut his private part.
He was admitted to a private hospital and had given a statement that a Goddess (Devi) came in his sleep and asked him to sacrifice his tongue and private part to prosper in life. So he went out with a blade and did the 'sacrifice' himself. However, later he changed his statement and told that he was abducted.