High alert in Dakshina Kannada ahead of PM Modi's visit to Dharmasthala
Narendra Modi will visit the famous pilgrimage centre dedicated to Lord Shiva
He will arrive in Mangaluru International Airport and will fly to Dharmasthala in a special chopper
NSG and SPG commandos are camping at the place to review the security arrangements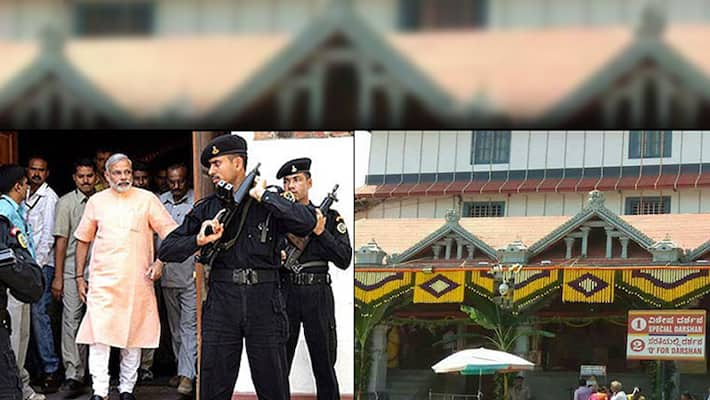 Ahead of Prime Minister Narendra Modi's visit to Dharmasthala, a popular holy place dedicated to Lord Shiva in Dakshina Kannada district, security has been beefed up in around Dharmasthala.
Modi's visit to this pilgrim centre gains a lot of significance as this is for the first time a prime minister of this country is visiting the temple.
To provide fool-proof protection to Modi, Commandos of Special Protection Group (SPG) and National Security Guard (NSG) are working over time along with the local police to ensure heavy security to the prime minister.
It is reported that a team of 60 SPG officers led by SPG head MP Gupta are reviewing the security arrangements in the region. Besides, more than 1,600 constables, nine police superintendents, three additional superintendents of police, 25 deputy superintendents of police, 50 circle inspectors, 150 assistant sub-inspectors besides home guards are camping at Dharmasthala.
It may be recalled here that the Anti-Naxal Force (ANF) has begun the combing of Naxal-infested regions like Ujire - where Modi will participate in a programme after visiting Dharmasthala - and other areas. Ujire is nine-kilometre from Dharmasthala, and throughout the stretch, one could see heavy police bandobust.
Modi is expected to arrive in Mangaluru International airport on October 29 and will fly to Dharmasthala in a special chopper. He is expected to reach the temple town by 10.50 am. He will have the darshan of Lord Manjunatha by 11.30 am.
Interestingly, Modi who is always seen in a kurta may wear a panche and Shlya while entering the temple, as is the norm. Dharmasthala and other temples in Dakshina Kannada follow a very strict regimen that men have to remove their shirts before entering the temple.  According to Kannada Prabha, Modi who has learnt about the temple's tradition will follow the custom. The temple too has made a special arrangement for the prime minister to change his clothes, reports Kannada Prabha quoting Dharmasthala temple authorities. Modi is expected to offer a special puja to Lord Manjunatha and may meditate for a while. Later, he will also offer special puja to 'Annappa Daiva', 'Ganapathi' and Sridevi. He is expected to have the lunch served at the temple and later meet Dharmadhikari Dr D Veerendra Heggade and his family.
Modi will later travel to Ujire by road and will participate in a programme where he will symbolically hand over the RuPay cards to a few members of the self-help groups of the Sri Kshethra Dharmasthala Rural Development Project(SKDRDP). It is reported that he will also participate in a programme - in Ujire itself - where the State bank of India will sign a memorandum of Understanding for cashless transactions for the SKDRDP.  
Last Updated Mar 31, 2018, 6:44 PM IST