Will the Assembly elections be advanced to December? The opposition parties certainly feel so
BJP is convinced the loan waiver announcement is a major indicator of Congress's strategy
BJP leader B S Yeddyurappa on Thursday told his partymen that the Congress has started making preparations, and the BJP too should

The Siddaramaiah led government's loan waiver move has made the opposition BJP and JD(S), which have been anticipating early polls, switch to top gear mode.
Chief Minister Siddaramaiah on Wednesday announced waiver of Rs 8,165 crore worth crop loans (up to Rs 50,000 per farmer) obtained from cooperative banks. Though the opposition parties have made the right noises by criticising the government for not effecting waiver on a higher amount, the Congress's move has indeed caught the BJP and JD(S) off guard. 
Thursday saw BJP State president B S Yeddyurappa sounding a clarion call to his party leaders and functionaries to gear up to face the Assembly elections in December itself. 
"Get into poll mode by thinking that 100 per cent elections will be held in December itself. All measures should be taken to strengthen the party - we will have less than four to five months to prepare. For the last few months I have been saying that there is every likelihood that elections will be advanced. The Congress is already making preparations. We need fulfil the prime minister's wish of a 'Congress mukth' Karnataka," he said.
Laying stress on welcoming dalit and other backward class leaders in large numbers into the BJP, Yeddyurappa also cautioned his partymen of consequences if they failed to dedicate 15 days each for party expansion.The Karnataka unit of the BJP should not let down party national president Amit Shah at any cost, he said. 
"Those who want to contest the elections should mandatorily work as Vistaraks by dedicating 15 days in their neighbouring Assembly constituencies. This exercise should be completed before July 25. When Amit Shah is in Karnataka in August, this will be his first question. We should be in a position to reply to all his questions and not embarrass ourselves or the party. This should not become a sore point. Give special focus to this exercise," he said.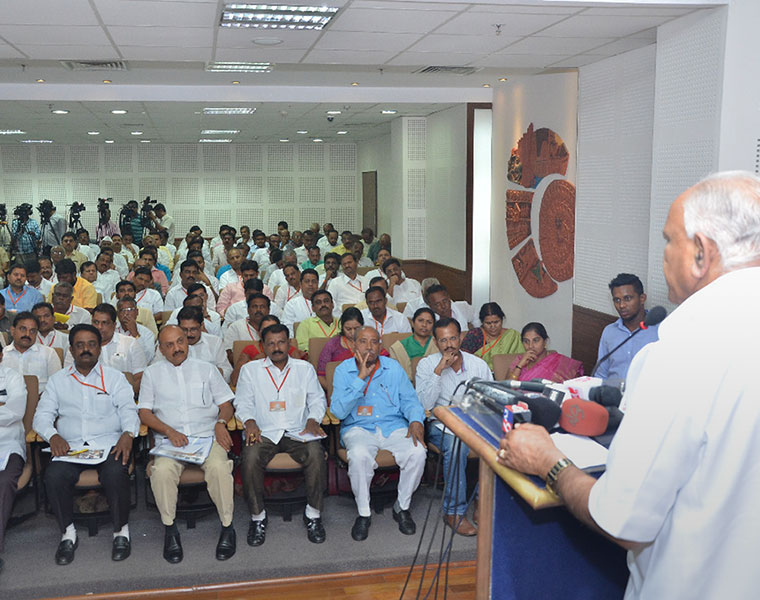 BJP State president B S Yeddyurappa addressed party functionaries, in Bengaluru, on Thursday
When one of the partymen asked if they could devote their entire day and return to their respective constituencies the same evening, Yeddyurappa shot back saying that it wouldn't count. "Nobody can escape this, there is no exception. Start the exercise from tomorrow itself. You will gain experience if you go and study your neighbouring constituency," he added.
Citing the instance of rebel Congress leader K P Nanjundi joining the BJP on Thursday, Yeddyurappa said, "Our focus should be on the SC/ST and OBC communities. We should welcome them in large numbers. We have welcomed K P Nanjundi, who is from a Vishwakarma community. Similarly, we should make special efforts in all districts. But we need to be careful that they don't lay down any conditions when they are joining the BJP." Yeddyurappa also said that all aspirants should take the responsibility of enrolling youngsters who have attained the age of 18 into the voters list. 
The BJP, which was threatening to picket the Vidhana Soudha next month if the government failed to announce crop loan waiver, has now decided to cancel the same. The party will instead focus on its expansion drive. A senior BJP functionary told Asianet Newsable that the loan waiver was a major indicator that the Congress had decided to advance the polls from April-May 2018 to December this year. "It's little wonder that the Congress government has announced a series of populist measures in the recent past. Announcement of the loan waiver was a big move. The BJP has decided to shift to top gear mode. The party had anticipated this, and that is why Yeddyurappa started touring the State rigorously," said the leader.
Ever since the Congress won the Nanjangud-Gundlupet by polls earlier this year, there have been speculations that it would want to capitalise on the feel good factor. JD(S) leaders H D Deve Gowda and H D Kumaraswamy too have been talking about early polls. Kumaraswamy in fact has accused both the Congress and the BJP for initiating various probes against him, for this reason alone. 
Once Kumaraswamy (who faces an arrest) is out of the picture, the JD(S) will be crippled, unable to dent the prospects of the national parties. While Kumaraswamy has been travelling extensively in North Karnataka districts, his wife Anitha Kumaraswamy is slowly taking over the party affairs, given the fact that there isn't a second rung leadership. 
On Thursday too the State cabinet approved the proposal to distribute laptops to 37,226 SC/ST students pursuing technical education. Recently, Siddaramaiah had also announced free bus passes to SC/ST students. These announcement ensue a series of 'Bhagya' programmes.