Bengaluru engineering college designs app to deal with 2,000 litres daily food waste
Appalled by the fact that 2,000 litres of daily food gets wasted at their campus, faculty members at Sri Venkateshwara College Of Engineering, Bengaluru, came up with an exclusive app that resulted in reducing waste. The app dishes out a range of menus to students, who will have to order a day in advance about their choice of food.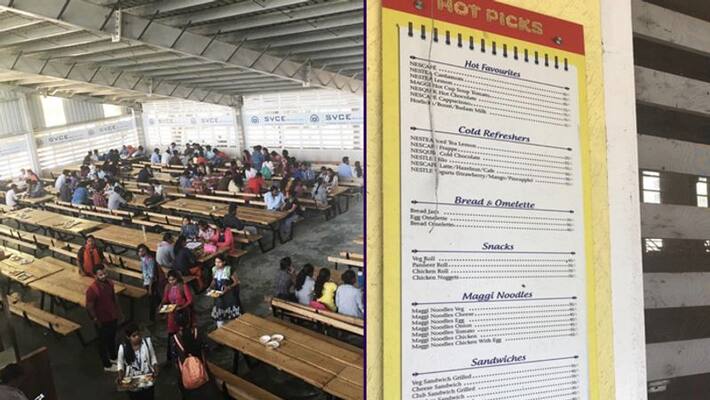 Faculty members of Sri Venkateshwara College of Engineering, Bengaluru, have come up with an app called  SVCE APP that takes care of over 2000 litres of food going waste otherwise.
Speaking to Asianet Newsable, Nageswara Gupta, vice principal of the college, said, "The app SVCE can be downloaded from Google Play store. The app dishes out various menus for breakfast, lunch and dinner and also includes snacks that will be offered at the three counters in the canteen. Students should place the order a day in advance and the food will be prepared accordingly. This way, we have been able to reduce daily food waste." 
In June, hostel warden, professors Sridhar NK, Guruprasad YK and Nageswara Gupta decided to end this waste menace as students studying and staying at the campus often stay away from consuming food from the canteen. Sambar, rasam, side dishes and rice items used to end up getting collected in the garbage bins.
"We could not even give it to the orphanage as they will think we are giving leftovers. Hence we hit upon the idea of designing an app. It took 45 days for all the trial and error and from August this year, we found success.  300 odd students regularly place the order. The college administration is looking after the maintenance of the app and fee collected from vendors, who have taken the contract to run the canteen is diverted to the Google account for storing and retrieving data,"  said, professor Gupta.
The happiest lot are the students who say that they are not forced to eat what the college dishes out. They now have a variety to choose from. Weekends used to be extremely difficult for the canteen staff as the waste would double up with students preferring to go out.
"The food items were fixed, and we used to get disappointed and would choose to go out instead.  Eating out added to our expense. Now we have choices. From Chinese items, Maggie counter, juices, south Indian and north Indian dishes, they are all on the menu and we can get them at the respective counters. We are very happy now,"  said Rakshita S, a student.
Last Updated Dec 26, 2018, 3:53 PM IST