BBMP doesn't want to be in deep waters, this time. Know why.
BBMP sets up control rooms to tackle rain woes
Palike personnel working on round-the-clock to attend distress calls
Flood-prone areas listed out, works are being done on priority basis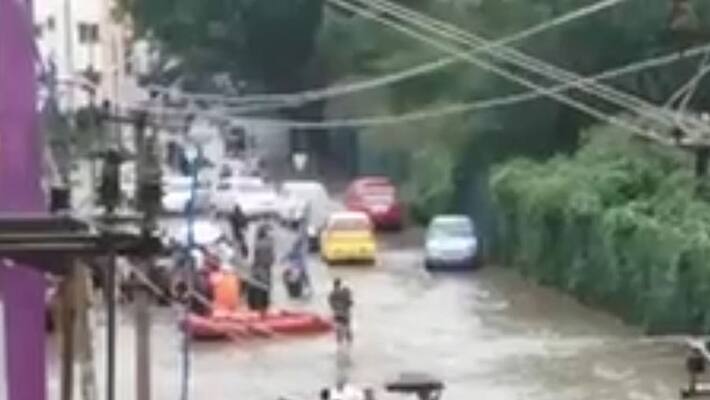 With the Weather Department predicting early monsoon in the city, the Bruhat Bengaluru Mahanagara Palike (BBMP) is now working on a war-footing on prepare itself from the rain havoc.
Just a few days ago, the city received moderate rain fall and claimed at least two lives. An auto driver, Karim (40) died after a portion of a wall collapsed on him at Yalagunte. Karim who was caught unawares by the sudden rain, had decided to take shelter near a building when the wall collapsed on him. Another Juvan Raja (10) who was also injured in the wall collapse, breathed his last.
These two incidents are learnt to have put the BBMP officials on its toes who are now leaving no stone unturned to complete rain-proof works taken up in the last couple of months. Storm water drains are being cleared of silt to avoid water accumulation and resulting in flash-floods. The Palike has prepared a list of flood-prone areas too and works on these have been taken on a priority basis.  
The infamous junction near Kino Theatre where water gets accumulated every year, has been taken up on prioroty, reports Prajavani. Besides, rampant encroachment of storm water drains in the city wreak a havoc in the city. The BBMP, however, is dragging its feet to clear encroachment in certain areas.
But to tackle the rain woes, the BBMP has set up control rooms in all the eight zones where personnel from 64 sections will be available round-the-clock to address any issue. Any distress calls on the flood, these staff will rush to the spot and help in clearing the water, says BBMP Commissioner N Manjunath Prasad, reports Prajavani
Learning from its past mistakes, the BBMP does not want to find itself in deep waters. It has equipped its flood alert system and has also deployed staff too. It has formed 20 vigilance committees to respond to any distress calls, especially complaints on uprooting of trees or electricity pole.
Last Updated Mar 31, 2018, 6:35 PM IST