Why Siddaramaiah is more interested in celebrating Tipu Jayanti than Rajyotsava: Shah
Shah urged Siddaramaiah to answer for over 10 deaths of Hindu workers in the last 4 years
The 'Parivarthana Yatra' will travel across the 224 legislative constituencies with an aim to throw out the Congress government in the State
The name Parivarthana Yatre, meaning transforming, is given not to change the government or the chief minister but the condition of the State, says Shah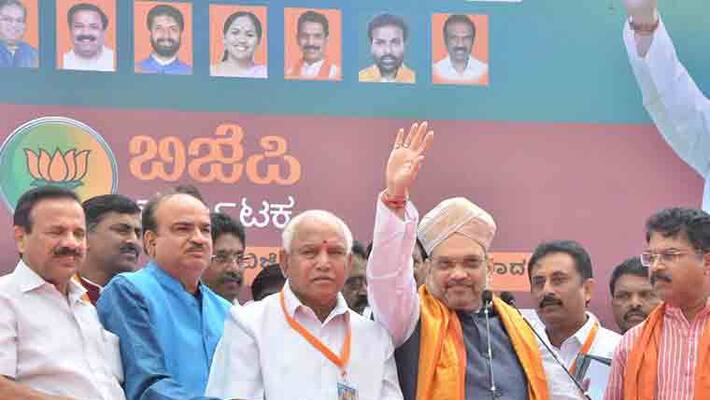 Karnataka Chief Minister Siddaramaiah is more interested in celebrating Tipu Jayanthi in a grand manner than celebrating Karnataka Rajyotsava. With this, he is indulging in vote bank politics, criticised BJP national president Amit Shah, reports Kannada Prabha.
He was speaking after inaugurating the 'Parivarthana Yatra' at the Bengaluru International Exhibition Centre on the outskirts of the City on Tumakauru Road. "Wednesday was Rajyotsava but Siddaramaiah was not interested in celebrating it in a grand manner. Instead, he is more interested in celebrating Tipu Jayanthi," he alleged. He called it vote bank politics. He also urged Siddaramaiah to answer for over 10 deaths of Hindu workers in the last 4 years.
Shah said Siddaramaiah is not worried about the safety of the citizens of the State. He is more interested in taking back criminal cases against SDPI and criminal instances. But Narendra Modi's government is attempting to take all sections of the society together, he said.
Siddaramaiah claims that he is the leader of the backward communities. But when the Centre presented the bill regarding giving constitutional status to Backward Commission Congress is opposing it, he complained. The 'Parivarthana Yatra' will travel across the 224 legislative constituencies and throw out Congress Government in the State. "The name 'Parivarthana Yatra', meaning transforming, is given not to change the government or the chief minister but the condition of the State. We intend to change the condition of the farmers and change the law and order conditions here. To change the corrupt Congress government and bring in Modi model of corruption-less, development-oriented government. There are corruption charges against the government. Siddaramaiah's government has broken all records of corruption," Shah said.
Last Updated Mar 31, 2018, 7:06 PM IST