Actor Puneeth Rajkumar's fan conducts health camps for poor
Actor Puneeth Rajkumars' fan club, Akila Karnataka Puneeth Rajkumar samara sene, Jayanagar added meaning to celebration of the Jayanagar Kannada festival. Instead of hosting an orchestra and blocking roads, the fan club opted to distribute wheelchairs to differently abled and conduct free health check-ups. Interestingly, Power Star Puneeth Rajkumar was present on the occasion and encouraged the youths to carry on with such services to the public.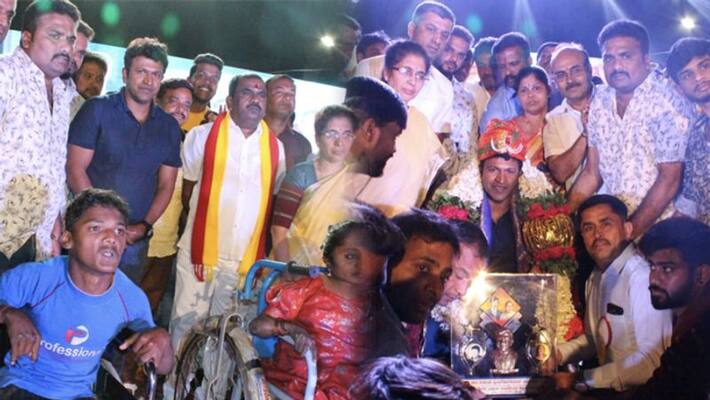 Actor Puneet Rajkumar inaugurated the free health check-up camp in Bengaluru and distributed free wheelchairs to the disabled. The event was organised by Akila Karnataka Puneeth Rajkumar samara sene, Jayanagar on Sunday evening. 
Chandrashekhar, president of the samara sene says, ever year there is an event held at the Jayanagar Kannada Festival by the samara sene and this year we wanted to add more meaning.
"Those who received wheelchairs and free health check-ups blessed our Power Star. His wish was that in the name of celebration, others should not be troubled, hence we decided to take up this social activity instead of conducting a gala event," said Chandrashekhar.
Last Updated Dec 17, 2018, 5:21 PM IST