Girl among seven arrested for honey trapping budding actor
Young actor trapped, physically assaulted, money and phones looted by the gang
A woman who befriended the actor saying she wanted his help to act in films called him in distress
Kidnapped, beaten and looted, the actor was let off the next morning; lodges police complaint
The gang had honey trapped and looted two traders earlier but they did not lodge complaint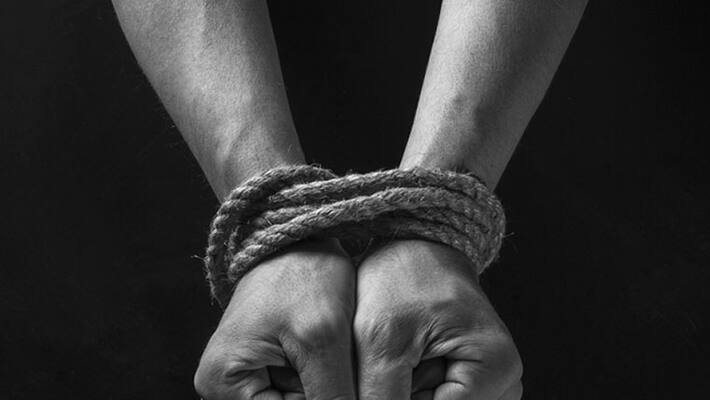 The Bagalgunte police have arrested a gang of seven, including a woman, for honey trapping a budding film actor, kidnapping, assault and looting him. The arrested are Tilak alias Rebel of Kamakshipalya, Divya, Mysuru N R Mohalla, Lokesh of Magadi Road, K Manjunath of Chikkasandra, Puneeth of Herohalli, Madan and Sumanth of Andhra Halli. Cash and 2 mobile phones were confiscated from them. On July 6, Divya called the actor on a pretext of seeking an opportunity for acting in a film, to Bagalagunte Circle. When he reached there, Tilak and his associates kidnapped and looted him said the police, reports Kannada Prabha.
Divya had come to Bengaluru searching for a job and she got acquainted with Tilak, who was into flesh trade. After their friendship blossomed, Tilak made plans to use her to honey trap the gullible. He built a trusted gang.
Some days ago, Divya had called the actor, who resides in Nandini Layout and said she was interested in acting in films and wanted his help. She also offered she "would co-operate with him in every way."  In the beginning, the actor ignored her calls but eventually he gave in to her persistence and decided to "help." He agreed to meet her. On July 6 Divya called the actor at 2.30 pm and said she was at Bagalagunte Circle. The actor left in his car to meet her.
Divya was sitting in another car and invited him into her car. As soon as he got in, the accused gang also got in and threatened him with knife. They abducted him to Tippenahalli, via Peenya 8th mile road. They tied him up in a shed and tortured him the entire day. They took away Rs 15,000 cash, two mobile phone, 3 ATM cards and let him out the next morning. He went to Bagalagunte police station and lodged a complaint.
The police said that Tilak had contacted the shed owner saying a friend of his was in trouble for loving a girl and rented the shed Rs 1000. The police investigated the mobile number from which Divya had made calls and traced her at Nelagedarahalli. She was arrested along with others. During interrogation, the gang confessed that they had honeytrapped two more traders and looted money from them. However, since they did not lodge complaints they were saved. Tilak lodging complaint helped the police nab the gang, said a police officer, reports Kannada Prabha.
Last Updated Mar 31, 2018, 7:02 PM IST