"I am Kengal's son. I am a loyal Congress man": Congress candidate Sripada Renu
Sripada Renu, grandson of Kengal Hanumantaiah the builder of Vidhana Soudha, is the Congress candidate from Malleshwaram constituency.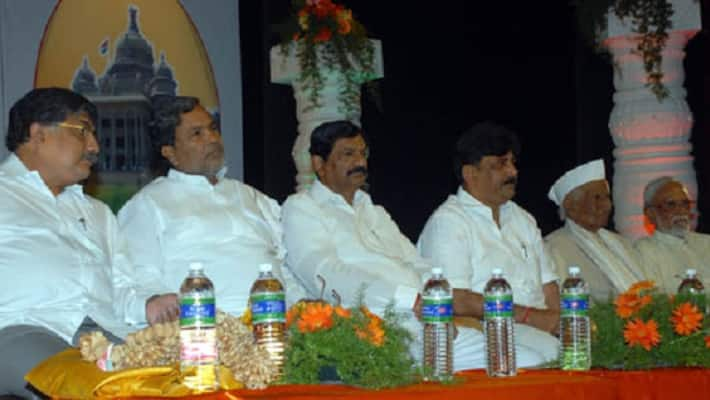 Sripada Renu, grandson of Kengal Hanumantaiah the builder of Vidhana Soudha, is the Congress candidate from Malleshwaram constituency. He has held many posts in Congress, and as a spokesperson to Congress is campaigning vigorously.  He is conducting cultural activities in the name of his grandfather and is the President of Kengal Hanumanthiah Memorial Trust. Besides these, he is a professional cricketer and has represented the state in Ranji Trophy match. He has won the prestigious Honda open -2001. Sripad Renu spoke of his strategy to win legislator's trophy  speaking to Kannadaprabha
You are contesting in the BJP stronghold Malleshwaram. How is the connect with the people?
I am travelling all over the constituency.  'One house, one Heart, one aim' is my motto. Congress workers and voters are working well. I have the confidence of winning here.
There is a belief that you are new to the constituency. Is it so?
I am a voter from Shivajinagar. My father lives in Palace Guttahalli. Does it matter? I am Kengal Hanumanthaih's grandson and a loyal Congressman. Am I new to this place being a Bangalorean? You tell me.
You entered politics because you are Kengal Hanumanthaiah's son. Is it so?
No, I have worked in Congress as an officer for the last 15 years. For the last two years, I have worked as a Congress spokesperson. I have walked in Ballari foot march from Bengaluru to Bellary. In Kengal Hanumanthiah's name, I have done lots of cultural programmes. The party has given me ticket recognising my work, not only for being the grandson of Hanumanthiah.
 Your name was not there in the leaders' list of  Congress
Congress is like a home. M.R. Seetharam and others along with me were aspirants. The party has given me the ticket. Why, what, where, how is not the question. When I told M.R. Seetharam about me getting the ticket he congratulated me and told that he would be joining me in campaigning. We are going together for campaigning.
What is your assurances for the development of Malleshwaram?
If I am talking about the first year, I will see that CSR from corporate companies is being used properly.  Companies are funding people's education in the villages. People from villages are living in Malleshwaram also. I will see that people get good education. I will seek companies' help. I will give first preference to basic facilities for the people. We need to make roads for pedestrians.  Along with Legislators' grant, I will bring in grants from other sources too to develop the constituency.
As former CM's son and Congress observer. What is your prediction for Election results?
I took note of what Yeddyurappa was saying. He has said if somebody goes to vote Congress tie their hands and legs and ask them to vote for BJP. It shows how desperate he is. There is no doubt that Congress will form the government once again.
Last Updated May 7, 2018, 7:53 PM IST