Pro Kannada activists urge Sandalwood actors to voice their opinions on Cauvery dispute
The Kannadiga Rakshana Vedike protests at the Karnataka Film Board in Bengaluru, urging Kannada film actors to speak out on the Cauvery water issue and criticizing their silence despite their cultural connections. They emphasize the importance of standing in solidarity with farmers and addressing the ongoing water dispute.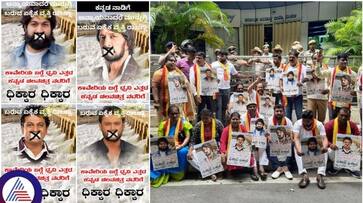 The Kannadiga Rakshana Vedike staged a protest at the Karnataka Film Board in Bengaluru, expressing disappointment with Kannada film actors who have remained silent on the Cauvery water issue. Kannada Prakash, a member of the forum, questioned why the current Sandalwood actors hadn't spoken out and reminded them of their connection to Kannada culture, emphasizing the importance of the Cauvery River to the state.
He highlighted the role of Dr. Rajkumar, Ambarish, and Vishnuvardhan as those who had previously shown support for farmers in Karnataka. He lamented the absence of such support today, as farmers and Kannada residents face pressure from external factors threatening the Cauvery River.

Bengaluru residents cannot receive water from Cauvery due to water shortage: Minister G Parameshwar
They even shared posters of the Sandalwood actors on Social Media, who haven't voiced their opinions on the ongoing water issue between Karnataka and Tamil Nadu. They have questioned the Actors work in Pan India films and asked them to speak out about the ongoing Cauvery dispute, along with their busy schedules. 
Prakash urged the 7 crore Kannadigas not to rely on these actors and instead stand in solidarity with the farmers, and stressed the vital role of agriculture in sustaining the community. He stated that their struggle and the protests are solely purposed towards solving the Cauvery dipsute between the two states.
Last Updated Sep 20, 2023, 6:27 PM IST