Karnataka govt to provide free laptops for children of construction workers pursuing PUC
Karnataka's Department of Labour is offering free laptops to first and second PUC students for the 2023-24 academic year. Eligible students are children of registered construction workers. Applications due by September 26, 2023, to Bengaluru circle offices with required documents: Construction Workers Registration Card, study certificate, and college enrollment receipt.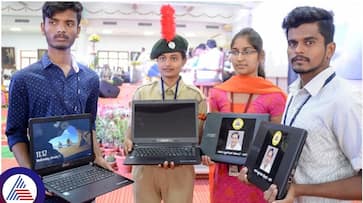 The Department of Labour in Karnataka is inviting applications for the distribution of free laptops to first and second Pre-University Course (PUC) students for the academic year 2023-24. This initiative is aimed at the children of registered construction workers affiliated with the State Building and Other Labour Welfare Board.
To avail of this opportunity, construction workers who are registered under Labour Officer-1, Sub Division Bengaluru, can visit the office of the Senior Labor Inspector at their respective circle office. They should submit their applications along with the required documents to the receiving office. The deadline for applications is September 26, 2023.

Fact-check: Modi govt is NOT providing free laptops to students
For additional information and inquiries, interested individuals can contact the Labour Officer at Sub Division-1, Bengaluru, located at Karnataka State Institute of Labour Studies Building, First Floor, Manjunath Nagar, Bagalgunte, Bengaluru-73. Alternatively, they can reach out via phone at the following numbers: 9845587605 and 8105084941.
Applicants are required to provide the following documents along with their application:
1. Construction Workers Registration Card (Certificate)
2. Study certificate from the college where they are pursuing their PUC
3. College Enrollment Receipt
Last Updated Sep 14, 2023, 4:09 PM IST