Karnataka expects massive Rs 25,000 crore investment influx from the United States
In a significant development for Karnataka's economic prospects, the Minister of Medium and large scale Industries and infrastructure , M.B. Patil, announced that the state is poised to receive an estimated ₹25,000 crore (3 billion dollars) in investments from the United States. This considerable commitment comes as a result of a comprehensive 12-day tour led by Minister M.B Patil, where over 30 organizations were engaged.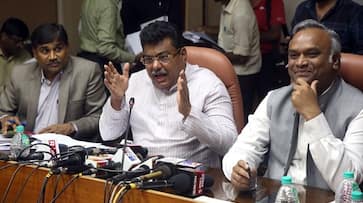 Impressive Endeavors in the U.S.
During this extensive trip to the United States, Minister Patil and his team held a total of 36 meetings, including 27 one-on-one sessions and 9 dialogues with organizations across various sectors. The discussions encompassed industries such as electronics, semiconductors, aerospace, defense, and electric vehicles. It is the culmination of these deliberations that has secured the substantial investment pledge of ₹25,000 crore for Karnataka.
BBMP is the main enemy of Bengaluru: Karnataka High Court
Building a Promising Future
The meetings in the U.S. revolved around several key facets, including Karnataka's industrial policy, land availability, infrastructure, and other vital considerations. Moreover, vision groups have been formed under the Department of Heavy Industry, spanning nine distinct departments. These groups have been hard at work, diligently outlining their strategies.
Karnataka's Significance on Display
The state's importance in the national landscape, particularly in areas such as IT-BT, aerospace, export industries, and industrial production, was also showcased during these meetings. This allowed the organizations in the United States to recognize Karnataka's potential and inspired their decisions to invest.
Multiple Organizations Show Enthusiasm
Notably, semiconductor manufacturing leader Applied Materials is expanding its research and development center, and prominent entities like Texas Instruments and Advanced Micro Devices have displayed a keen interest in capital investment. Further discussions were held regarding the establishment of a research university and the creation of a Dutch health city, both of which received a favorable response.
Preparation for Capital Investment
In preparation for this substantial influx of investments, senior officials from the Department of Big Industries and IT-BT Department have maintained continuous communication with the organizations. As a result, the capital investment process is expected to commence during the first quarter of the 2024-25 fiscal year.
The event was attended by prominent figures including Industries Department Principal Secretary S. Selvakumar, IT-BT Department Secretary Ekrup Kaur, and Industries Department Commissioner Gunjan Krishna.
Regional Skill Development Centers and Sector-Specific Districts
IT-BT Minister Priyank Kharge revealed that new initiatives are underway to further attract investments. During the meetings with U.S. organizations, the matter of human resource skills emerged as a significant point of discussion. In response, the government is set to establish regional skill development centers to enhance the skill set of the workforce. Additionally, one district will be earmarked for investment in each sector to facilitate and benefit investors.
Last Updated Oct 13, 2023, 11:41 AM IST