Former Karnataka CM HD Kumaraswamy voices strong opposition to Cauvery water release to Tamil Nadu
Former Chief Minister H.D. Kumaraswamy has voiced his strong discontent with the recent directive from the Cauvery Water Control Committee (CWRC) to release 3,000 cusecs of water to Tamil Nadu daily for the next 15 days. In a media statement, he lamented that Karnataka is being pressed to share water, despite the critical depletion of reservoirs due to insufficient rainfall.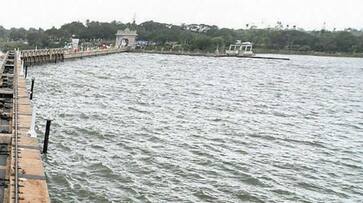 Kumaraswamy raised concerns about the constitutionality and alignment of these orders with the interests of the state and its people. He stressed that these repeated orders challenge the principles of equitable justice and have created a severe water crisis, particularly affecting the residents of Bengaluru and farmers who depend on the Cauvery. 
Karnataka faces setback as CWRC orders 3000 cusecs water release to TN from October 16 for 15 days
He emphasized the essential needs of the Kannadigas, underscoring that they too require sustenance, including food and water. Kumaraswamy pointed out the seemingly forgotten fact that Karnataka is a part of the larger union system, and the responsibility of preserving the Cauvery cannot rest solely with the state government.
Furthermore, he expressed his disappointment with the government's inability to challenge these directives, calling upon the people to unite and safeguard their rights. Kumaraswamy reaffirmed his party's support for the people in this matter.
Last Updated Oct 11, 2023, 6:00 PM IST