Bengaluru rains turn city into aquatic playground; Govt praised for 'Great' infrastructure
Bengaluru's heavy rainfall turned the city into a water wonderland, with flooded roads creating opportunities for humor and water sports like side jumps and swimming. Commuters found amusement in navigating the chaos and potholes, showcasing the city's unique character.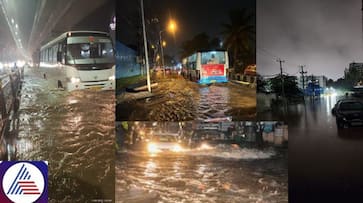 In a stunning display of aquatic prowess, Bengaluru recently transformed into a sprawling water wonderland thanks to the delightful weekend and Monday rainfall. Commuters, known for their exceptional talent in finding humour amidst the chaos, revelled in the newly inaugurated "Spice Garden Water Sports Extravaganza."
The heavy downpour wreaked havoc on the city's notoriously well-constructed roads, unleashing a wave of potholes that challenged even the most intrepid motorists. As traffic came to an unprecedented standstill, Bengalureans had the unique opportunity to practice their side jumps, long jumps, swimming, vehicle pulling, vehicle pushing, and the ever-popular "guessing potholes" game.

Bengaluru: Heavy rainfall disrupts normal life, Yellow alert for the next 48 hours
One social media enthusiast, @Vickydissaster, quipped, "Spice Garden is back with Water Sports activities - Side jump, long jump, swimming, pulling vehicle, pushing vehicle, guessing potholes, etc., etc. Trust Bengalureans to find humour in a bad situation 😃."
Meanwhile, @thrishul lamented the government's fascinating strategy of concretizing every inch of public space, only to be bewildered by the resulting waterlogged roads. He astutely pointed out, "Concretize every inch of public space later wonder why it floods."
A fellow commuter narrated his thrilling adventure in what he coined the "Bengaluru Potholes Jam." His car valiantly battled a pothole on the Marathahalli bridge, succumbing to a punctured tire. It took over an hour for the heroic driver to change the tire, with the invaluable assistance of a kind-hearted TT driver. Overflowing with gratitude, he thanked the Bruhat Bengaluru Mahanagara Palike (BBMP) for their impeccable infrastructure, exclaiming, "Thanks for the great infrastructure @BBMPCOMM @CMofKarnataka! Please keep up the great job."

Want to date in Bengaluru? Read this woman's tips about dating in traffic
It's no secret that every time a drizzle graces Bengaluru, the city's roads instantaneously transform into scenic waterways. Citizens passionately advocate for preserving drainages and lakes, all in the name of maintaining this stunning infrastructure.
Not to be outdone, user @jayeshnair29 celebrated the occasion by sharing a video, cheekily stating, "It's time to learn how to swim #BengaluruRains #Bengaluru."
Even the city's underpasses and apartment basements joined the aquatic festivities, delighting residents with impromptu swimming pools. Bengaluru's traffic problems continue to remain a secret, wrapped in a watery enigma, as the city's famous rains never fail to amuse.
Last Updated Oct 10, 2023, 2:10 PM IST