Bengaluru metro: Tunnelling of 17 km along Nagavara metro line is complete
The Bengaluru Metro's 'Vamika' tunnel boring machine has successfully excavated a 721-meter metro tunnel on the Pink Line. Notable progress has been made on the 20 km route, with 17.62 km of tunnelling complete. Remaining work involves other TBMs, expected to finish by December. Additional train services aim to enhance passenger convenience.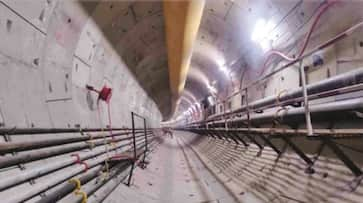 The tunnel boring machine (TBM) named 'Vamika,' operating on the Kalenagrahara-Nagwara 'Pink' line (21.30 km) of the Bengaluru Metro, has successfully excavated a 721-meter metro tunnel. A substantial portion of the total route, containing 20 km, has seen notable progress, with 17.62 km of tunnelling process being completed.
The Bengaluru Metro Railway Corporation (BMRCL) revealed that 'Vamika' initiated its tunneling activities from Lakkasandra Metro Station on August 21st, and recently emerged at Langford Town Station in Bengaluru.
Bengaluru Metro: Purple Line inspection likely after September 6
Previously, 'Vamika TBM' accomplished a tunnel length of 613.2 meters between the South ramp and Dairy Circle tunnel stations, as well as 743.4 meters between Dairy Circle Station and Lakkasandra Station. Of the 9 TBM machines deployed for the tunnelling operations, 6 TBMs have successfully concluded their tasks, stated BMRCL.
Remaining work
The pending tunneling work includes 'Rudra TBM,' covering 613.20 meters from the South ramp to Dairy Circle, and 746.2 meters from Dairy Circle to Lakkasandra. This TBM is also actively carving a tunnel of a 633.2-meter stretch from Lakkasandra to Langford Town, with 87 meters remaining. This work is expected to be completed by December. Moreover, 'Tunga TMB' is operating over 838.8 meters near Venkateshpur-Kadugondanahalli, while Bhadra TBM has 406 meters of tunnelling pending.
Completed Tunnels
Carving of tunnels has been successfully completed from the National Military School to Shivaji Nagar and from the National Military School to Langford Town. However, tunnelling work from MG Road to Vellar Junction, Dandu Railway Station to Pottery Town, and Pottery Town Station to Shadimahal Retrieval is being continued.
Yashwant Chauhan, Chief Public Relations Officer of BMRCL, stated that the two tunnels, measuring a total of 20 km, are making notable strides. Among these, a substantial portion, measuring 17.62 km, tunnelling has already been completed. Chauhan assured that pending tasks will be completed, and rail alignment will follow through.

Over a decade since launch, Namma Metro achieves Rs 40 crore profit
Extra trips from Majestic to MG Road
In a demand to enhance convenience for passengers during peak morning hours, BMRCL has announced an additional train service between Sec. 1 and Nadaprabhu Kempegowda Station-Majestic and M.G. Road metro stations (purple line) from Monday to Friday. 
This aims to facilitate smoother travel for passengers heading towards Baiyappanahalli from Mahatma Gandhi Road (MG Road) metro station. BMRCL stated that passengers travelling towards Byappanahalli can get down at M G Road and travel further by catching other metro trains.
Last Updated Aug 31, 2023, 4:26 PM IST