Astonishing encounter: Villagers stunned by rare sighting of Asiatic Wild Dog (Dhole) pack in Theerthahalli
Villagers in Theerthahalli taluk, Shimoga district, witness a rare sighting of Asiatic Wild Dogs (Dhole), captured on a forest guard's mobile phone. These elusive creatures typically avoid human contact and are a rare occurrence in this region, adding to the area's biodiversity.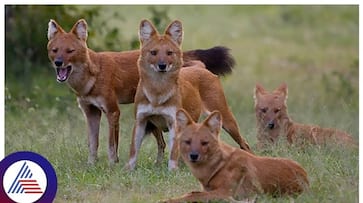 In a mesmerizing wildlife encounter, villagers in Theerthahalli taluk, Shivamogga district, were treated to a rare sighting of an Asiatic Wild Dog group, also known as Dholes, on a Thursday. The extraordinary moment was documented by Prajwala, a vigilant forest guard who was on duty at the time. Using his mobile phone, he captured the passage of the Asiatic Wild Dog group as they moved from Marikere Bank to the Nellisara forest.
The Asiatic Wild Dog, also known as kadunai, selunai, or the red dog, is an elusive and wolf-like forest-dwelling creature that tends to avoid human contact. Its name 'Seelunai' is derived from the distinctive whistling sounds it produces. These creatures are known to travel in packs and are referred to as Asiatic Wild Dogs (Dhole)  in English.

Karnataka rain: Heavy vehicles banned at Agumbe ghat till September 15
Typically found in the Nagarhole sanctuary, the presence of Asiatic Wild Dogs in Hodala village of Tirthahalli has left locals in a state of wonderment. Their appearance in this region is a rare and unusual occurrence.
Karnataka-based wildlife photographer Kripakara-Senani earned accolades at the Wildscreen World Film Festival in 2010 for his documentary 'The Pack,' which delves into the behaviours and interactions of Asiatic Wild Dogs. This recognition highlights the importance of these remarkable creatures and their contribution to the biodiversity of the region.
Last Updated Sep 2, 2023, 3:04 PM IST