Anticipated rains to ease Monsoon woes for Karnataka Farmers
Bengaluru (September 17) - In a promising development for the beleaguered farmers of Karnataka, meteorological experts have forecasted a respite from the monsoon drought with substantial rainfall expected in the state during the last week of September and throughout the monsoon season.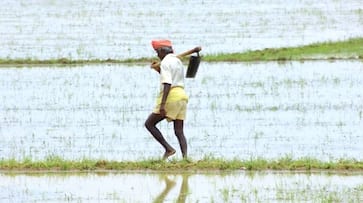 This year, as the monsoon arrived in the end of September , hopes have soared for abundant rainfall. Predictions suggest the likelihood of normal or even above-normal monsoon rains this season, with an average of 18.2 cm of precipitation expected during the October to December monsoon period.
Historically, the state has faced monsoon deficits exceeding 20% in the past 50 years, but this time around, a noteworthy improvement in monsoon conditions has been reported.
In 1972, there was a 23% rainfall deficit during the monsoon season. Contrastingly, this year, the deficit stands at a mere 7% due to improved rainfall. Similarly, in 1987, a 23% rainfall deficit was reported, but this year, monsoon rains have exceeded expectations by 59%. The trend continues, with favorable monsoons observed in 2001, 2002, and 2015.
Experts attribute this positive change to several factors. Despite this year being an El Nino year, the weakening of El Nino has led to strengthening monsoon winds. 
Additionally, the Indian Ocean Dipole is showing favorable characteristics, further bolstering the prospects for abundant rainfall. Meteorological Department scientist Prasad has expressed confidence in extended rainy days, particularly from September 21-22, marking the last week of September. He has reassured that the 25% monsoon rain deficit will see improvement.
The lack of monsoon rains this season has resulted in crop failures, mounting farmer debts, and a growing drinking water crisis in various districts. Water reservoirs' depletion has led to conflicts with neighboring states over water sharing and adversely affected hydropower generation in the state.
In a disheartening statistic, Karnataka has experienced its second-largest rain deficit in 53 years, with a 25% monsoon rain deficiency recorded this year.
Monsoon Rain Statistics (1971-2023):
- 1971: 23% deficit, only 7% shortfall
- 1987: 23% deficit, 59% more rain
- 2002: 2% deficit, only 7% rain deficit
- 2023: 25% deficit, highest in 53 years
The habitual rainfall profile for the state includes:
- Pre-monsoon (January-May): 11.6 cm
- Monsoon (June-September): 85.2 cm
- Post-monsoon (October-December): 18.2 cm
Last Updated Sep 17, 2023, 3:19 PM IST