'Don't herd sheeps': CM Siddaramaiah advocates education for all, sends young boy to school
Karnataka Chief Minister Siddaramaiah, in response to a citizen's plea on social media, swiftly intervened to re-enroll 11-year-old Yogesh, who had left school to tend sheep for two years in Basapura village. The Chief Minister, sharing his own childhood story, emphasized the importance of education and encouraged people to report such issues through @osd_cmkarnataka X account.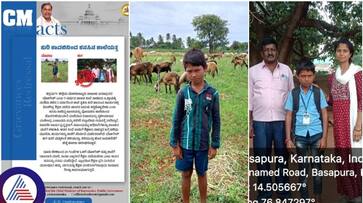 In a swift response to a concerned citizen's social media plea, Karnataka Chief Minister Siddaramaiah, along with a team of officials, took immediate action within a mere 24 hours. The citizen's message highlighted the plight of a child who had left school to tend to sheep, and as a result of their intervention, the boy was successfully re-enrolled in school.
While education is a fundamental right for all children aged 6 to 14, many youngsters still face barriers to accessing quality schooling. In the rural setting of Basapura village, situated in Chitradurga district, a local resident named Mahendra took it upon himself to document the situation through pictures and videos. These compelling visuals were shared on social media, accompanied by a direct tag to the Chief Minister, drawing attention to the child's predicament.

Karnataka to give free sanitary pads for school and college girls from October
In his tweet on social media Platform X (formerly Twitter), Mahendra shared the story of Yogesh, an 11-year-old boy from Basapura village in Challakere taluk, Chitradurga district, who had been looking after sheep since the age of 2. The Chief Minister's social media team promptly alerted local authorities, who identified Yogesh and facilitated his return to school.
Yogesh had not attended school for two years, instead working as a shepherd. Karnataka CM took to Platform X to address the situation, sharing his own childhood experience. He mentioned that Yogesh was withdrawn from school by his parents and had been herding sheep for two years.

Karnataka minister Madhu Bangarappa urges BJP to prioritize real issues over 'India vs Bharat' debate
Following this, officials visited Yogesh's home, educated his parents on the importance of education, and successfully re-enrolled him in school within 24 hours. Yogesh, who missed school due to poverty, is now back on the path to a better future.
The Chief Minister shared a personal story, highlighting that he, too, missed out on schooling as a child, but a Sir named Rajappa Sir enrolled him directly in the 5th grade, paving the way for his journey to becoming the Chief Minister. He expressed hope that Yogesh's return to education would lead to a brighter future. The Chief Minister encouraged people to reach out through the office's @osd_cmkarnataka X account if they encounter similar public interest issues.
Last Updated Sep 12, 2023, 12:44 PM IST