Bengaluru FC has dropped to the seventh spot in the Indian Super League 2020-21 table, while Odisha FC stays at the bottom. Bengaluru is a former champion of the tournament, having won the title in 2018-19. Odisha FC made its debut last season, as it looks to win its maiden title.
There was no respite for the former champion, as Bengaluru FC extended it winless streak to seven matches, following a 1-1 draw to Odisha FC in the 2020-21 Indian Super League, at the Fatorda Stadium in Bengaluru, on Sunday. While Bengaluru has now dropped to the seventh place, Odisha stays at the rock bottom.
It all began with Diego Mauricio's strike in the eighth minute, handing Odisha the opening lead. However, Erik Paartalu levelled it for Bengaluru in the 82nd minute, while Odisha goalkeeper, Arshdeep Singh played a pivotal role in denying the host a win.
Following the game, Bengaluru manager, Naushad Moosa was shocked with the result, as he estimated, "It was very simply just to play attacking football and to try to keep the ball. The first goal really got into the players and they struggled in the first half. They were much better in the second half and created lot of scoring opportunities."
"That would be our main concern. Today's game it was very important that we get those three points. It was one crazy game. Now, the only thing is to try and work with our juniors and give them more opportunities and prepare them for the future," he continued.
ALSO READ: Bengaluru FC extends winless streak with draw against Odisha FC
"The thing is we still don't want to give up, we have seven games in hand. Only Mumbai City FC and ATK Mohun Bagan are clear, all the other teams are close. Winning today's game would have taken us up there. We don't want to give up and want to keep fighting. We will give chance to young players. We really need to think about it and see how we can give them more playing time," he added on Bengaluru's playoffs chances.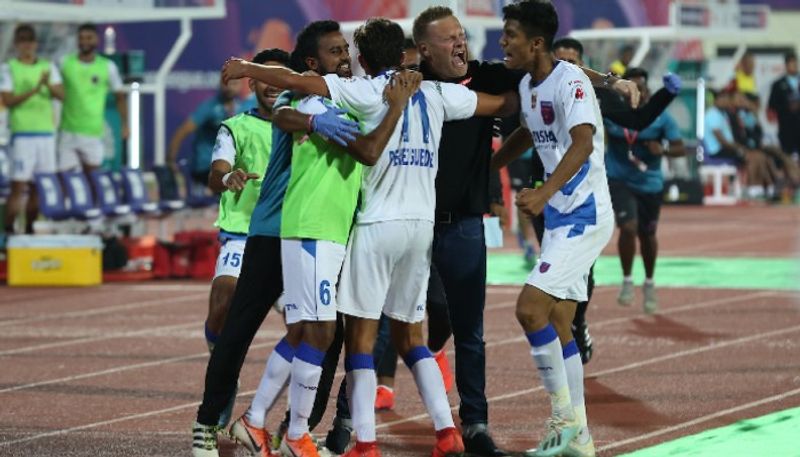 Meanwhile, Odisha boss, Stuart Baxter rued that both sides were lacklustre throughout. "Both teams did not perform to their full ability. I don't think Bengaluru FC played as well as they wanted to and neither did we. We had a couple of chances when we counter pressed and from 1v1s and they had chances from set plays. The 1-1 is logical result. The way it turned out, we were so close to a result and are disappointed with the draw," he wondered.
"Winning will give us the confidence; the draws won't. When they score from a set-piece at the end, you get angry and not confidence. I think we got to have a good strong result. We've played better than tonight and lost. I didn't make any changes basically because they were so dangerous in set plays and we had our best players on the field," he concluded.