ISL 2020-21: Lobera urges Mumbai City to go all-out against ATK Mohun Bagan following Odisha rout
Mumbai City FC continues to stay at the second spot in the 2020-21 Indian Super League table, following its win over Odisha FC. City would next take on ATK Mohun Bagan, which is placed atop the table, as the tie would decide who would finish on top.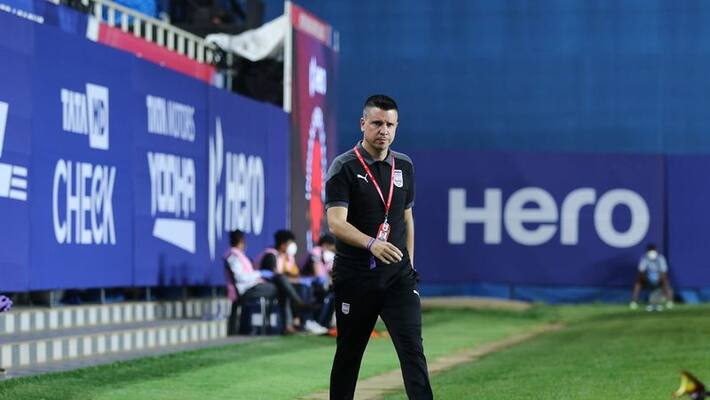 Mumbai City FC seemed to have found a new mojo, as it fired six past Odisha FC during the 2020-21 Indian Super League at the GMC Stadium in Goa on Wednesday. Although the win has helped it stay at second, it would now fancy its chances of finishing on top, provided it wins against ATK Mohun Bagan on Sunday.
As for the Odisha game, although Diego Mauricio put Odisha ahead in the ninth minute, through a penalty, Bartholomew Ogbeche, Bipin Singh and Cy Goddard allowed City to lead 4-1 at half-time. Bipin struck twice to complete his hat-trick in the second half, while City absolutely demolished Odisha 6-1.
Following the game, City boss Sergio Lobera was confident that this performance would allow his side to pull off an outstanding performance in the upcoming final league game against table-topper ATKMB. "Obviously, this is the most important moment in the season. We needed to react and it's not only about the result, but also how the team played and took out the three points. I am very happy because it's going to be a very good game against ATK Mohun Bagan. I think we deserve to fight till the end. We deserve the victory and to play the last league game like a final," he said, reports Sportstar.
ALSO READ: Bipin Singh scores hat-trick as Mumbai City FC fires 6 past lacklustre Odisha FC
"I believe a lot in my team. My players have a lot of confidence and motivation to play the last game. It is also important to control motivation. When it's too high, it may be a problem. We needed to manage this situation well. The most important this is to be strong as a team and as a family in bad moments. This game today is helpful for us in terms of motivation for the next game," he added.
Lobera was also noteful about the disciplined gameplay his side displayed on Wednesday and ensured that the boys kept their emotions under check. "We have controlled our emotions and have got only one yellow card in each of our last three games. It is important for me as a coach for my team to avoid bookings. The motivation of the players today was amazing. The attitude and performance was amazing," he concluded.
Last Updated Feb 25, 2021, 11:02 AM IST