ISL 2023-24: Scott Cooper proud of Jamshedpur FC after team seals hard-earned 1-0 win over Hyderabad FC
Jamshedpur FC tasted success for the first time this season as Rei Tachikawa's fantastic free-kick encouraged them to beat Hyderabad FC by 1-0 in their ISL 2023-24 clash at the JRD Tata Sports Complex on Thursday.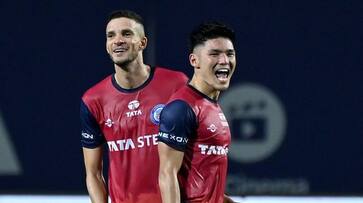 In a thrilling match at the JRD Tata Sports Complex in Jamshedpur, Jamshedpur FC secured their first win of the Indian Super League (ISL) Season 2023-24, narrowly defeating Hyderabad FC with a scoreline of 1-0. Interim head coach Scott Cooper expressed pride in his team's performance after the game, highlighting the challenges they faced in the lead-up to this crucial victory.
Having previously secured a draw against East Bengal FC and experienced a narrow loss to Kerala Blasters FC, JFC had been eagerly awaiting their first win of the season. The team had a hectic schedule that had taken a toll on the players' energy levels even before the match began. However, the match's turning point came in the 76th minute when Rei Tachikawa executed a sublime free-kick, securing all three points for JFC in a highly entertaining 90 minutes of play. Despite having only 37% possession, Jamshedpur FC emerged victorious, thanks to Tachikawa's brilliance.
In the post-match press conference, Coach Scott Cooper acknowledged the challenges his team faced, stating, "I think it was a hard game for us because it was our third game in 10-11 days. And because we played with a pressing game with a lot of energy, you could see we looked tired. I mean we're lucky we didn't get big injuries here. So, we, I think we have to be really proud of the team's performance."
Cooper went on to explain that halftime adjustments were necessary due to the team's depleted energy levels. In the second half, their performance improved significantly, with Hyderabad FC struggling to generate goal-scoring opportunities.
Rei Tachikawa, who made his debut for Jamshedpur FC under Cooper's management in this match, received high praise from the coach. Cooper commended Tachikawa's work ethic, versatility, and the quality of his match-winning free-kick. He highlighted Tachikawa's positive attitude, punctuality, and dedication to his role within the team.
The coach also provided an update on the availability of Ritwik Das, expressing excitement about having Das back in the squad after the international break. Cooper believes that Das, with his strong work ethic and talent, is an ideal fit for his style of play and will contribute significantly to the team's success.
Jamshedpur FC's first victory of the season marks a turning point for the team, and Coach Scott Cooper's leadership and player performances are key factors in their continued pursuit of success in the ISL.
Last Updated Oct 6, 2023, 2:08 PM IST