ISL 2023-24: Mumbai City FC coach Des Buckingham delighted with win over NorthEast United FC
Mumbai City FC edged past NorthEast United FC by 2-1 at the Indira Gandhi Athletic Stadium in Guwahati to commence their Indian Super League (ISL) 2023-24 campaign with all 3 points on Sunday.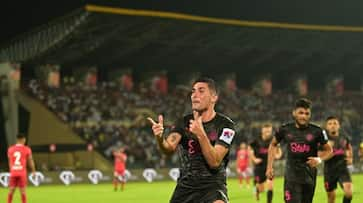 Mumbai City FC's head coach, Des Buckingham, expressed his satisfaction with his team's performance as they secured a victory against NorthEast United FC in the opening match of the Indian Super League (ISL) 2023-24 season held at the Indira Gandhi Athletic Stadium in Guwahati on Sunday.
The reigning ISL champions, Mumbai City FC, started the game aggressively and took the lead thanks to their Argentine forward, Jorge Pereyra Diaz. However, NorthEast United FC, led by Parthib Gogoi, equalized with a fantastic finish. Nevertheless, the Islanders managed to restore their lead before halftime as Diaz scored his second goal of the night. Despite numerous opportunities for both teams in the second half, neither side could find the back of the net.
Buckingham expressed the significance of the three points earned in the post-match press conference, believing that they would realize its importance later in the season. "I think when we look back at this (result) later on in the season, we will realise how important these three points are or will be," Buckingham said.
"I think coming here, first game of the season, a lot of travel for us as well, but to come here against what is very different NorthEast (side). We knew they were going to be strong and from what I have just seen on the pitch there, we have had to do a lot to come away with this result, which I'm extremely happy with but I have no doubt that - NorthEast United FC will cause a lot of problems, certainly at home," he explained.
The English coach anticipates that his team will improve as the season progresses and emphasized the importance of sharpness. He drew a parallel to the previous season when his team hit their stride after a few matches. He highlighted that this was only their second game after participating in the AFC Champions League and stressed the importance of keeping the squad fresh and fit.
"It is more about sharpness for us now. The more games we play, same as last year, probably after three or four games, (when we played against Kerala Blasters FC) when we had that sharpness that allowed us to do well. That will come," Buckingham stated.
"This is just our second game after the AFC Champions League game, the other night and now it's about making sure that we keep our squad as fresh and fit as we can," he added.
Buckingham also lauded Jorge Pereyra Diaz's performance, noting his crucial role in the team. Praising the Argentine, Buckingham said, "We know we're a very different team with Diaz when he plays, not just because of his finishing, but the way he presses and understands how we want to play. He's a very important player alongside, obviously, the others that work so well with him, like they did last year."
Last Updated Sep 25, 2023, 11:09 AM IST