ISL 2023-24: Kerala Blasters' players join fans in unique celebration after win over Jamshedpur FC - WATCH
Kerala Blasters FC recorded their second straight win of the Indian Super League (ISL) 2022-23 season as they beat visitors Jamshedpur FC by 1-0 at the Jawaharlal Nehru Stadium in Kochi on Sunday, thanks to a 74th minute strike by their talismanic skipper Adrian Luna.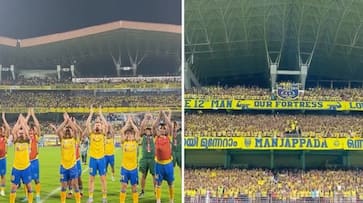 Kerala Blasters FC's assistant coach, Frank Dauwen, expressed his delight with the team's performance in their second Indian Super League (ISL) 2023-24 match against Jamshedpur FC at the Jawaharlal Nehru Stadium in Kochi on Sunday. In a tightly contested game, Kerala Blasters FC's captain, Adrian Luna, found the back of the net in the 74th minute, securing a crucial victory for the Blasters. While chances were limited for both sides, Kerala Blasters FC capitalized on their one significant opportunity to claim all three points.
This win marked a historic moment for Kerala Blasters FC as they now have six points from their first two games, achieving consecutive victories for the first time in ISL history. Fans too cherished the moment as they honoured the players following the game in Kochi with a unique celebration style. The video posted on the club's X account has gone viral, and has given fans a goosebumps moment.
Reflecting on the match, Dauwen acknowledged that his team faced challenges in the first half but felt they gained better control of the game after making substitutions, introducing Dimitri Diamantakos and Vibin Mohanan.
Dauwen explained, "We had a lot of difficulties, especially in the first half when they had the ball, and the space was too deep to cover the ball. But I think after we made changes after one hour, I think with Dimi (Diamantakos) and Vibin (Mohanan) in the team, we had more control on the ball. And then, we scored one fantastic goal with Luna. The first work was done, and we ended with the 1-0 victory, so very happy with that."
Dauwen also expressed his delight with the enthusiastic support of the home fans, who turned out in large numbers to back their team. He praised their unwavering support throughout the match and emphasized the positive impact they have on the players.
He said, "That's amazing (the support). Also, in the first game, the support was very amazing. Also today, the club or the players, they love it. Also when they are not that good in the game, they help them (players). And then, after the goal, the 1-0 (they cheered a lot). They are amazing. Fantastic."
Last Updated Oct 2, 2023, 1:26 PM IST