ISL 2023-24: Kerala Blasters FC made it tough for us, says Mumbai City FC's coach after hard-fought win
Mumbai City FC notched a narrow 2-1 victory over Kerala Blasters FC in their inaugural home fixture of the ISL 2023-24 season on Sunday night.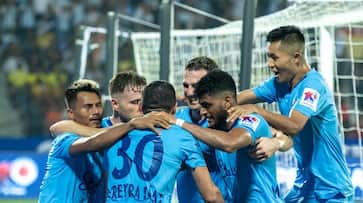 Mumbai City FC's head coach, Des Buckingham, expressed his satisfaction with his team's performance following their hard-earned 2-1 triumph over Kerala Blasters FC on Sunday, even in the face of a challenging travel itinerary. This victory marked Mumbai City FC's first home win of the 2023-24 Indian Super League (ISL) season, extending their unbeaten streak in the league.
The crucial breakthrough for Mumbai City FC arrived in injury time during the first half when Jorge Diaz scored a goal with a tap-in. Kerala Blasters FC managed to equalize in the second half, but the decisive winning goal came from Lalengmawia Ralte, who placed a well-timed shot into the net following a miscued clearance.
Leading up to their home encounter against the Blasters, Mumbai City FC had played three consecutive matches on the road in both the ISL and the AFC Champions League. This demanding schedule included a grueling journey lasting over 19 hours to Uzbekistan for a match against Navbahor. Buckingham revealed that this travel had added to the team's fatigue.
During the post-match press conference, Coach Buckingham praised his players for their dedication and adaptability in challenging circumstances. He commended their willingness to find different approaches to secure victories, especially when facing formidable opponents like Kerala Blasters FC.
"For the players to do what they have just done and work as hard as they have, I'm extremely pleased with it (the performance). We have a way which we want to play, which is attractive and attacking football. But sometimes, you don't get to do that. We came up against a very good Kerala Blasters FC side with very good players and they made it very tough. Other teams will (too), and we know this. We need to find different ways to win. And that fight, that aggression and determination especially on the back of what has been a long and tiring two-and-a-half weeks, was very good to see," he said.
Buckingham also spotlighted the outstanding performance of Lalengmawia Ralte, who notched his first goal of the season. Ralte, originally from Mizoram, had been deployed in a more advanced role compared to the previous season and had excelled in this new position.
"I can't speak highly enough of Apuia. He's a young player, he's 22. This is my third season with him. When I signed, he was at 6, a defensive midfield player who had a breakout season with NorthEast United FC (before he joined Mumbai City FC)," Buckingham said. 
"He is so open minded to try new things and learn. His attitude is as good as it can and it should be for a professional footballer at this club. He tries to improve his game everyday, both on and off the field. Because of that, he gets himself more minutes on the field. That's why he is playing as many minutes as he is and has since I've been here and he's starting to reap the benefits of that. He scored three or four goals last season and got himself an assist. He's got his targets this year to try and improve that. But the beauty of that is if he can develop his game further forwards, we know he can play in a deep-lying role and that will only help enhance that role when he goes back to playing that. Because he'll be able to understand and see those moments further forwards that will develop his game going forward," he added.
Last Updated Oct 9, 2023, 1:18 PM IST