ISL 2023-24: 'Happy to score' - Kerala Blasters' Luna elated with win over Bengaluru FC in opener - WATCH
Kerala Blasters FC rode on two second half goals to triumph over Bengaluru FC by 2-1 at the Jawaharlal Nehru Stadium in Kochi in the opening fixture of the Indian Super League 2023-24 season.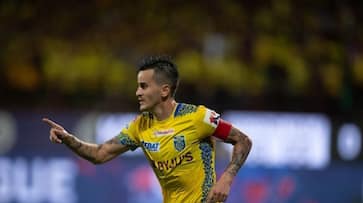 In the opening game of the Indian Super League 2023–24 season, Kerala Blasters FC defeated Bengaluru FC 2-1 at Kochi's Jawaharlal Nehru Stadium thanks to two goals in the second half. Adrian Luna, the captain of the Blasters, was instrumental in both goals, taking the corner for the first one and scoring the other to give his team the three points after a spirited first half that saw neither team threaten the goalie.
The first half was characterized by a closely contested battle, with both teams evenly matched in terms of possession, shots taken, and attempts at creating scoring opportunities through crosses.
As the first half progressed, both teams had their chances to score. Daisuke Sakai of the Blasters saw his right-footed shot saved by Bengaluru's goalkeeper Gurpreet Singh Sandhu in the 33rd minute. Bengaluru responded with a promising combination between Suresh Singh Wangjam and Sivasakhti Narayanan, but Wangjam's shot was comfortably saved by Kerala's Sachin Suresh.
The second half saw a revitalized Kerala Blasters side capitalize on a corner conceded by Gurpreet Singh Sandhu. Adrian Luna delivered a curling corner kick that was expertly nodded into the net by Bengaluru's Keziah, giving the home team a crucial lead in the 52nd minute.
In response, Bengaluru's coach, Simon Grayson, made tactical adjustments, bringing on Spaniard Javi Hernandez for Veendorp in an attempt to bolster the team's attack. However, Kerala gained confidence after their first goal, and Luna took advantage of a mistake by Sandhu in the 69th minute. Luna pressured the goalkeeper, causing him to mishandle the ball and leaving the Kerala captain with an open net to score the second goal of the night.
In the closing stages of the match, Grayson introduced young talents like Harsh Patre and Monirul Molla in a bid to mount a comeback, and their recent signing, Curtis Main, found the back of the net in the 90th minute, briefly raising hopes of an equalizer for Bengaluru. However, Kerala's solid defensive unit held firm to secure the victory.
Adrian Luna was the standout performer of the match, spearheading Kerala's attacking efforts with creativity and precision inside the box. His all-round contribution, including diligent defensive work, played a crucial role in his team's victory.
Following the win, Luna said, "First game, first win. It was important for us to start the league good with three points. The stadium was full. It was important for us to give them happiness. They saw the game and they go home happy. We started the league with three points and that's important for us. Now we have to focus on the next game."
Talking about the fans and support for Kerala Blasters in the opener, the skipper added, "The atmosphere was amazing. First game of the league and the stadium was full. People chanting for us, cheering for us. It was amazing. They are going home happy because we won and got three points. We scored two goals. It's important for us and for the fans that we get three points. Thank you all for coming and hope you come next game, we need you. We appreciate you coming here and cheering for us. Thank you."
When asked if he plans to make scoring in back-to-back opening fixtures as a tradition, Luna stated, "I don't know if it will be a tradition, but it was nice to score, especially when we win. You help the team to get three points. Today it was the case and I am happy for that. To be honest, I don't think about scoring or doing this and doing that. I think about helping the team to get three points. We did it today, so we're happy for that."
Looking ahead, Bengaluru FC will face the Mohun Bagan Super Giant in Kolkata on September 27, while Kerala Blasters will take on Jamshedpur FC in Kochi on October 1 in their upcoming fixtures.
Final Score: Kerala Blasters 2 [Veendorp 52' (OG), Luna 69'] – 1 Bengaluru FC [Curtis Main 90']
Last Updated Sep 22, 2023, 10:37 AM IST