ISL 2023-24: Coach Cuadrat satisfied with East Bengal FC's energy despite goalless draw against Jamshedpur FC
East Bengal FC played out a goalless draw with Jamshedpur FC at the Salt Lake Stadium in Kolkata as neither of the two teams could find the breakthrough in an otherwise end-to-end, entertaining action in the opening fixture of the two teams in the Indian Super League (ISL) 2023-24 on Monday.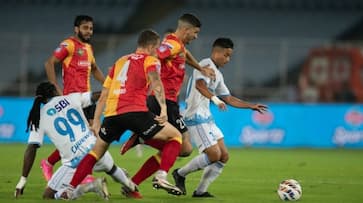 East Bengal FC's head coach, Carles Cuadrat, expressed his satisfaction with the team's performance in their opening fixture of the Indian Super League (ISL) 2023-24 season against Jamshedpur FC at the Salt Lake Stadium in Kolkata. The match ended in a goalless draw, with both teams earning a point each.
Cuadrat's side initiated the game with an attacking approach and continued to create scoring opportunities throughout the match. However, a resilient defensive display from Jamshedpur FC resulted in a shared outcome at the final whistle.
During the post-match press conference, Cuadrat, a Spaniard, conveyed, "We are at the start of the season and there are a lot of things to develop, but I am quite satisfied with the energy that the team has put on the pitch. We have created some really good chances."
He acknowledged the efforts made to secure three points but also recognized the opponent's intentions, stating, "At the end, we have to understand that there is also another team that came with a plan and tried to get a result."
Cuadrat mentioned the need to adjust his team's defense due to the absence of Lalchungnunga and Jordan Elsey. Lalchungnunga is currently with the Indian national team for the Asian Games, while Elsey is sidelined due to a knee injury.
"We have to improvise the defense because we miss Jordan, we miss Lalchungnunga, so we have to prepare a new defense, not the same defense that has been playing in the Durand Cup," he explained.
Despite dropping a couple of points in the opening game, Cuadrat remained positive and highlighted how minor details can influence match outcomes. He emphasized the importance of seizing opportunities in fast-paced situations.
Regarding Cleiton Silva's inclusion in the starting eleven for East Bengal FC, Cuadrat mentioned that they are diligently working on his fitness and readiness. Silva joined the squad late and had limited participation in the Durand Cup.
"He's getting ready. He arrived very late in the squad. He could only participate for a few minutes in the Durand Cup. Most of our players have played around 700 minutes, and he is still at around 300 minutes," Cuadrat stated.
He reassured that Silva would be integrated into the team when deemed appropriate, saying, "He will be ready for the team. When we feel that it is the moment for him to start, he is going to start."
Last Updated Sep 26, 2023, 11:48 AM IST