ISL 2023-24: Chennaiyin FC coach Owen Coyle reflects on missed chances, soft goals in defeat to Odisha FC
Chennaiyin FC's head coach, Owen Coyle, discusses his team's 2-0 defeat to Odisha FC in their ISL 2023-24 opener, highlighting missed chances, soft goals conceded, and the importance of learning from the match.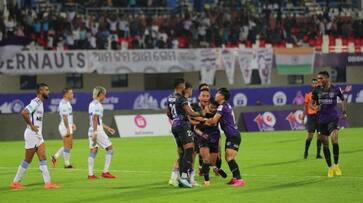 Chennaiyin FC's head coach, Owen Coyle, is determined to look forward after his team's 2-0 defeat to Odisha FC in the opening match of the Indian Super League (ISL) 2023-24 season at Bhubaneswar's Kalinga Stadium. In the contest, the Marina Machans showcased a fighting spirit and dominated the opening half. However, late in the first half and again in the second half, Diego Mauricio's goals secured all three points for Odisha FC.
Coyle acknowledged that his team had numerous chances but lacked clinical finishing, while Odisha FC capitalized on their opportunities to secure the win. He praised Odisha FC for their efficiency in taking chances, even though they had limited opportunities in the game. Coyle expressed his satisfaction with his team's performance and highlighted the need for clinical finishing to convert chances into goals. Coyle emphasized that there were many positive aspects to take from the match, including lessons learned, and expressed optimism about the future matches.
"Odisha FC took their chances. I think they had one other chance in the first half. I don't recall another chance of note. We've come here, we've dominated in terms of the chances we had. We missed some absolute, real chances and that's where we need to be clinical," Coyle said in the official post-match press conference.
"All credit to Odisha FC, they took their chances. I think they only had three (chances) in the game and even the two they had, one of them they threw in and then obviously a pass back and an error from one of our lads. here's a lot to be pleased about moving forward. We'll take that in and we can come here and perform at that level. To be honest, we've not got the points that our performance deserved, that is for sure. It's Odisha FC's night, good luck to them. After 22 games we'll see where everybody is," he added.
Chennaiyin FC started the game on a positive note, but Odisha FC gradually found their rhythm after a lightning-induced halt in the match.
Coyle highlighted the importance of not conceding goals easily and pointed out that both goals conceded were avoidable. He acknowledged that his team played well but rued the soft goals they conceded.
Despite the setback, Coyle remained confident in his team's abilities and looked ahead to the next matches, determined to build upon the lessons learned from this match.
The head coach stressed the need to avoid costly errors and gifts to opponents, especially top-class players like Diego Mauricio. Overall, Coyle's focus is on the positives and the potential for improvement in upcoming games.
"The lesson is very simple. You can't give goals. The first one is a nothing cross, it's been punched down, I think it falls to Puitea, there's no pressure on the ball and he gets a shot away. Not a particularly powerful shot but it finds its way into the corner for some reason. But then 1-0, it was all us, we dominated chance upon chance," he stated. 
"There was no doubt we played really well and then on the stroke of half-time, it was 45th minute or 46th minute, whatever it was, we've given away a soft goal. That being said, we came out of the second-half, it was all Chennaiyin FC in again and there was no doubt it was 1-0, the chances were high, it was only a matter of time until we got an equaliser and then we made a terrible error. Our lads passed it all right to (Diego) Mauricio, 1-1 in the goalkeeper. Mauricio is a top player so what you don't want to do is give him gifts and that's what we've done," Coyle added.
Last Updated Sep 24, 2023, 11:12 AM IST