ISL 2023-24: Bengaluru FC's coach Simon Grayson optimistic despite challenges ahead of Odisha FC clash
Bengaluru FC head coach Simon Grayson is optimistic about his team's morale as they prepare to take on Odisha FC in the opening fixture of Matchweek 6 of the Indian Super League (ISL) 2023-24 at the Kalinga Stadium, in Bhubaneswar, on Tuesday.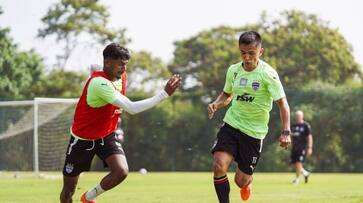 Bengaluru FC's head coach, Simon Grayson, has expressed about his team's spirits as they gear up to face Odisha FC in the inaugural match of Matchweek 6 in the Indian Super League (ISL) 2023-24 at the Kalinga Stadium in Bhubaneswar on Tuesday. The start of the campaign for The Blues has been less than ideal, having accumulated only four points from four matches. Their away performance hasn't been satisfactory, suffering losses in both matches played on the road this season.
"The schedule hasn't been kind to us. We have a lot of away games at the start of the season but all we're trying to do is build our fixtures up," Grayson stated in the pre-match press conference.
Similarly positioned in terms of points and matches, Odisha FC finds itself in a similar standing as the Blues. Grayson anticipates a tough challenge and expects both teams to strive for securing the coveted three points. 
"We go to Odisha FC in good spirits knowing that we'll keep working and improving every day. But we know that it's a tough game. I also think that Odisha will look at our team and think that this will be a tough game for them as well," he stated.
"I'm sure Odisha FC will look to keep possession a lot and dictate the tempo, so we have to be disciplined in our work ethic and defensive shape. Against FC Goa, I thought we gave them too much space and we'll have to avoid that against Odisha FC," Grayson added.
The head coach aims to re-instill a winning mentality within the team, advocating for a one-game-at-a-time approach, mirroring the successful mindset of the prior season. "I want the players to have the mindset of winning each game as it comes, and this group did that last year. We have to do everything we're capable of doing against Odisha FC and then go towards Hyderabad. It's going to be one game at a time," Grayson commented.
Centre-back Aleksandar Jovanovic joined Grayson for the press conference, acknowledging the strong partnership he has developed with his fellow centre-back, Slavko Damjanovic, forming a cohesive and proficient defensive unit. Ahead of their upcoming game, Jovanovic recognized the challenge of facing their former teammate, Roy Krishna, now playing for Odisha FC.
"It's great to play alongside Slavko (Damjanovic). We both speak the same language and we're both from the same area in Europe. I think we've got a pretty good understanding of how one another thinks, of how we play," he shared.
He further added, "We all know Roy (Krishna), he's a good friend of ours. but on the pitch, there are no friends, everyone is an enemy. I'll tell Slavko and whoever plays in the defensive line what his strengths are, and what he'll look to do. Hopefully, we'll have the upper hand."
Last Updated Oct 30, 2023, 2:27 PM IST