ISL 2022-23: No room for error as Odisha FC hosts playoff rivals FC Goa
Two playoff front runners at the bottom end of the playoff zone, Odisha FC and FC Goa, will face each other in a crunch encounter on Monday.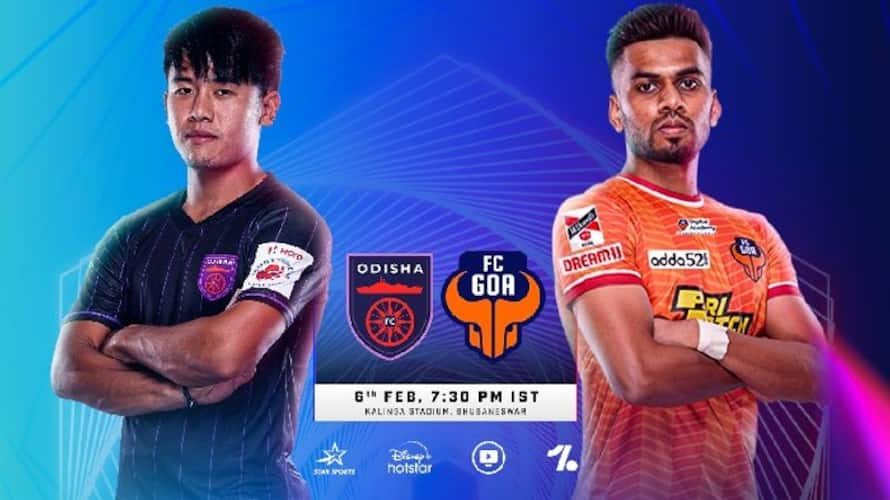 On Monday, a pivotal match between two Indian Super League (ISL) 2022-23 playoff front-runners at the bottom of the playoff zone, Odisha FC and FC Goa, will take place at the Kalinga Stadium in Bhubaneswar. Three points separate the teams, and while the winner will create a much-needed cushion, the loser risked falling below Bengaluru FC, who are now lurking on the cusp of the race for sixth.
Odisha FC will long for the form they showed in the first half, as the season's business end is almost here. Six of the Juggernauts' first eight Hero ISL matches this season were victories. However, they have only had one victory in their previous eight games.
They played Chennaiyin FC last week, drawing 2-2 in an intense match. Diego Mauricio needs one more goal to reach the 10-goal plateau for the year. The Brazilian has secured his spot in the starting lineup after scoring four goals in his last four outings.
Head coach Josep Gombau will welcome back Raynier Fernandes after a brief injury absence. Last week, the midfielder came on as a substitute.
"It is a very important game which we are playing at home against a team that is our rival on the table. FC Goa have won their last two games and the next game is like a final. A good result is very important for both teams in this playoff race," said Gombau. "We are in the position where we wanted to be at the start of the season. We always wanted to fight for the playoffs and now we are," he added.
FC Goa will need to win three straight Hero ISL games, something they haven't done all season, if they want to earn all three points. Furthermore, FC Goa has a dismal record away from home, winning just two of their last eight contests.
In the last two games, FC Goa has scored seven goals. The Gaurs defeated East Bengal FC 4-2 last week thanks to a hat-trick from Iker Guarrotxena. The Spaniard, who currently leads the league in goals, is expected to get the game against Odisha FC underway.
New signing Hernan Santana could be in the squad as well. The Spaniard has been roped in to replace the injured Marc Valiente. The Gaurs also signed Nikhil Prabhu from their next opponents, while Princeton Rebello has gone the other way.
"I am happy that Hernan is with us and he is absolutely fit and ready to help the team. He is a versatile player who knows the style of football we play and is comfortable with the ball," said head coach Carlos Pena. "It is a very important game for them [Odisha FC] and they will be under pressure after being in the playoff spots all season and struggling to hold onto that now. But, at home, they are a very strong team. It will be a tough game for both sides", he added.
In the previous seven Hero ISL encounters between these two sides, FC Goa have won five times and two games have ended in draws. Odisha FC are yet to win a game against the Gaurs in the Hero ISL. 
Last Updated Feb 6, 2023, 8:00 AM IST