Bhuvneshwar Kumar has picked up 16 wickets in 7 matches at an average of 11 in IPL 2017 already.
His death bowling skills have been applauded by everyone.
The death bowling in T20 cricket is one of the most important aspects as the teams tend to lose a number of games in these overs. Bowling yorkers in the slog overs is an art and no other bowler has mastered that art better than Bhuvneshwar Kumar in this edition of the Indian Premier League (IPL).
The Sunrisers Hyderabad seamer has delivered for his skipper David Warner and his side in all the matches apart from one. His figures in the IPL 2017 are astounding. Bhuvneshwar has already bagged 16 wickets in just seven matches at an average of 11 and an incredible economy rate of 6.28.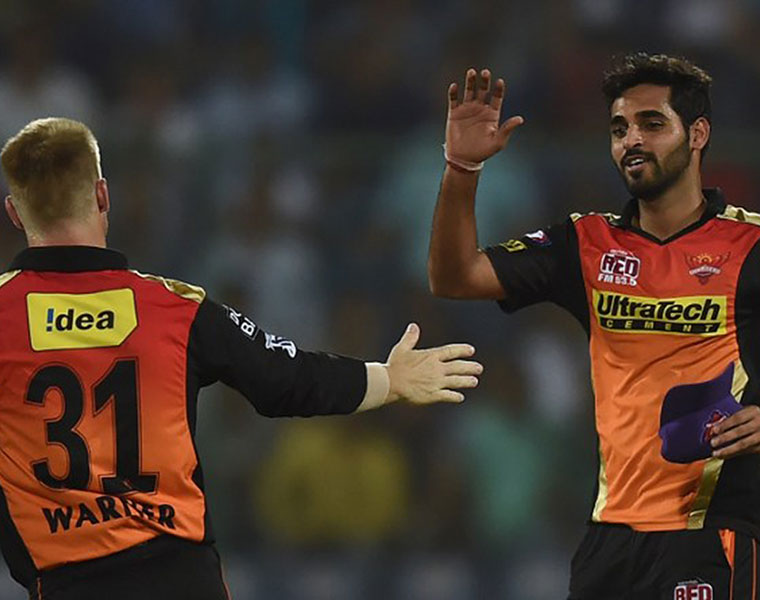 An economy rate under 7 in the shortest format of the game is considered to be gold dust. His impeccable line and length during his spells have helped him to reap rewards in IPL 2017. Bhuvneshwar can swing the new ball, which makes it difficult for the opening batsmen to hit through the gaps. Thus, his overs are tidy up front.
Later, when he is given the duty of bowling two death overs, he makes life difficult for the finishers of the game by bowling those yorkers with consummate ease. We have just witnessed half of the IPL 2017, there are still 31 more matches to be played. We hope that he is going to bag more wickets by the end of the tournament. We are also hopeful that he does that same when he plays for India in the ICC Champions Trophy 2017 as well.