Fifth Phase WB Polling: About 20% voter turnout recorded till 9 am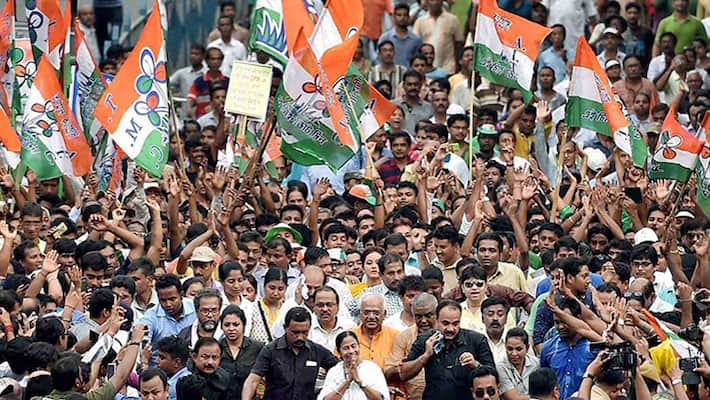 Close to 20 per cent voters exercised their franchise in the first two hours of polling for the fifth and penultimate phase of West Bengal Assembly polls today in which a number of heavyweights including Chief Minister Mamata Banerjee are in the fray.
Till 9 AM, voter turnout of 20.10% was recorded from Hooghly district, 20.04% in South 24 Parganas while Kolkata South had the lowest turnout with 15.64%.
The Election Commission said the overall average turnout was 19.64%.
Altogether 349 candidates, including 43 women, are trying their luck in today's election across three districts -Kolkata South, South 24 Parganas and Hooghly.
About 1.2 crore voters are eligible to cast their votes at over 14,500 polling booths from 7 AM to 6 PM.
The centre of attraction in this phase is Bhawanipur constituency where the West Bengal Chief Minister is pitted against former union minister Deepa  Dasmunshi of the Congress.
The other prominent candidate in Bhawanipur is Chandra Kumar Bose, grand nephew of Netaji Subhas Chandra Bose, contesting on a BJP ticket.
Apart from deploying a strong contingent of 90,000 personnel of central and state police forces, the poll panel has also ordered imposition of prohibitory orders under Section 144 CrPc in all constituencies on polling day.
Sizzling heat is a worry for voters as Kolkata had yesterday recorded 40.4 degrees temperature, five degrees above normal.
A number of political heavyweights and key ministers like Subrata Mukherjee, Firhad Hakim, Manish Gupta, Partha Chatterjee, Javed Ahmed Khan and city mayor Sovan Chatterjee will try their luck in this phase of the election.
Last Updated Mar 31, 2018, 6:59 PM IST