West Bengal CM Mamata Banerjee nearly falls while driving an electric scooter; Watch the video
West Bengal chief minister Mamata Banerjee was protested against the hike in petrol, diesel, and LPG cylinders' prices in a unique way.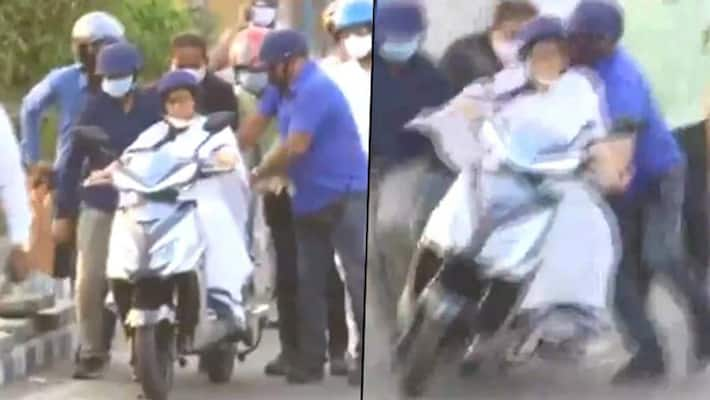 West Bengal chief minister Mamata Banerjee tried to ride an electric scooter while protesting against the fuel price hike in Kolkata. However, the move becomes risky as the chief minister nearly fell while driving the scooter.
The security staff and people around her came to Mamata's rescue and helped her recover balance. She then continued the ride. The video of the incident has gone viral on social media. 
Earlier, Mamata Banerjee travelled as a pillion rider on an electric scooter to state secretariat Nabanna. The West Bengal chief CM was seen sitting behind state minister Firhad Hakim, who drove the battery-powered electric scooter. With a poster protesting against the petrol price hike hanging around her neck.
Last Updated Feb 26, 2021, 10:39 AM IST