Rabble-rousers raise the pitch in Bengal's assembly race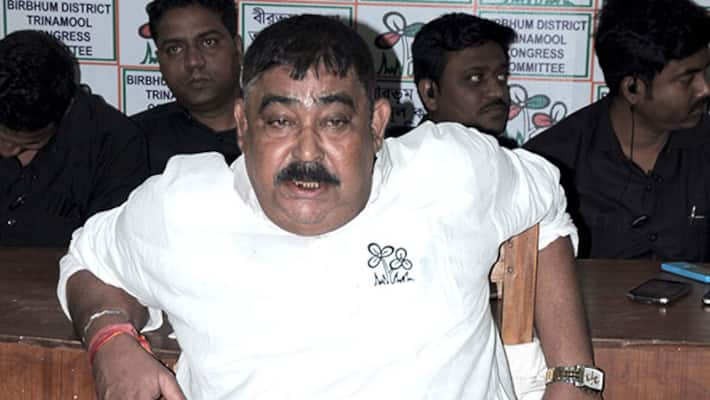 Giving teeth to their own party's violent agendas are political leaders of every hue. These musclemen issue threats to voters, use guns and bombs and roam around quite freely in Bengal's villages. This assembly election, too, you will find them everywhere.
Variously called the "Bahubali" of Bengal politics and likened to the character Amitabh Bachchan played in the movie "Don", Anubrata Mondal has made several incendiary remarks this poll season.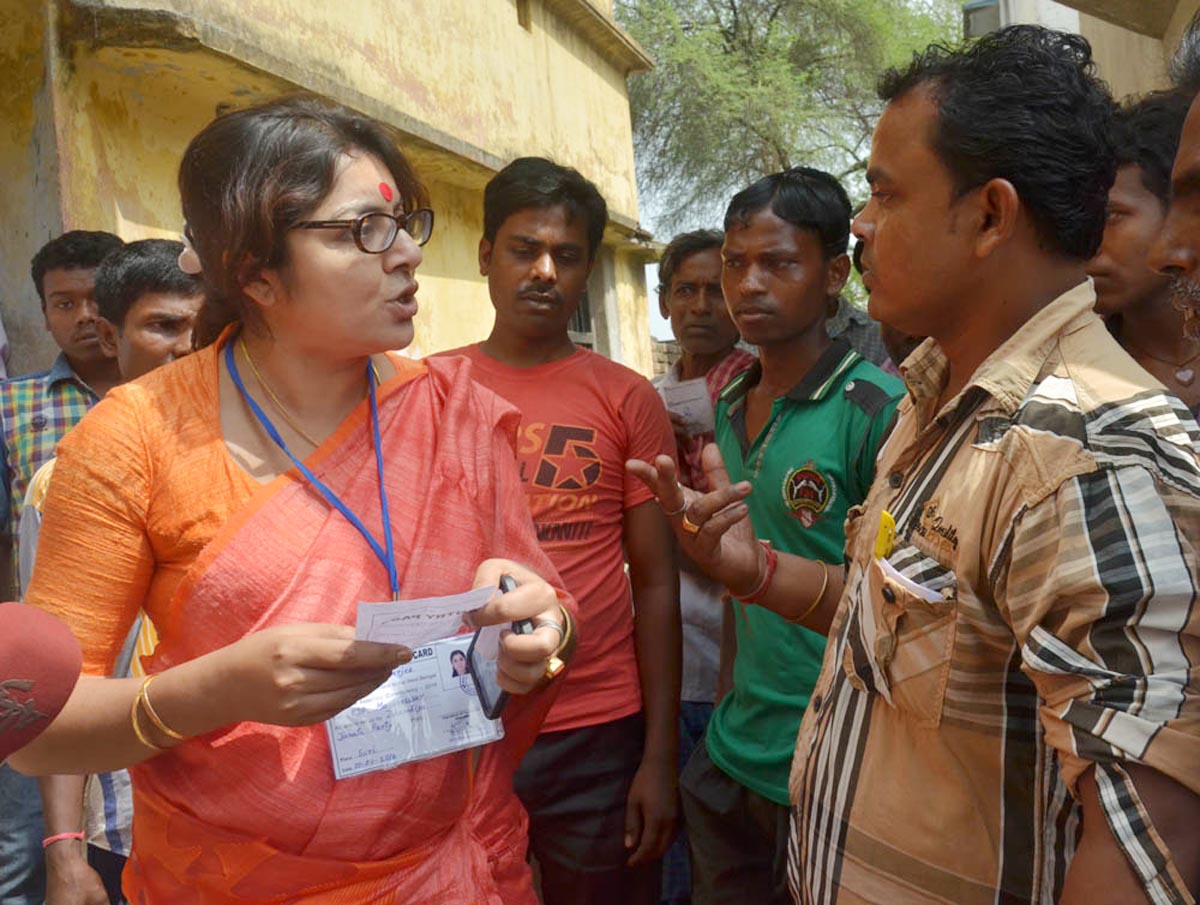 Locket Chaterjee
The Trinamul Congress Birbhum district president has repeatedly been show-caused by the Election Commission for allegedly making derogatory remarks against BJP candidate and Tollywood starlet Locket Chatterjee and openly wearing his party's symbol on his kurta when he cast his vote at a polling booth in Bolpur on Sunday.
The EC put him under 24X7 surveillance on Sunday, and he was instructed not to leave Bolpur. The Bahubali that he is, Anubrata, however, managed to evade the strict watch of a deputy magistrate and police personnel.
Across 13,645 polling stations in seven districts, 383 candidates' fate was sealed on Sunday, and as curtains fell on the second phase, 56 Assembly constituencies recorded 79 per cent attendance, said EC data, among a voter base of nearly 1.22 crore.
Six of the seven districts — Alipurduar, Jalpaiguri, north Dinajpur, south Dinajpur, Darjeeling, and Malda — are in North Bengal, where polling remained by and large peaceful.
All the action was centred around the sole south Bengal district, Birbhum, and the Trinamul president remained the centre of all attention among a spate of reports of violence, voter intimidation, and rigging from different parts of the area.
Despite the man's notoriety, or perhaps because of it, chief minister of Bengal Mamata Banerjee has handed Anubrata the responsibility for Mangalkot, Ausgram and Ketugram constituencies in Burdwan district apart from the 11 in Birbhum district.
The EC has issued a notice to Anubrata that he is not to move out of Bolpur and will place him under surveillance after 5 p.m., on Tuesday.
What does he have to say about that? "I haven't heard from them yet. I will answer that question when I do," Anubrata told newsable.com. "The stricture they placed on me yesterday was until 6 p.m. I left Bolpur after that to attend meetings. Today, too, I have been attending meetings in Burdwan district. We will win all 11 out of all 11 seats in Birbhum."
Since Sunday evening, reports of bombing and violent clashes have been reported from all over Birbhum district. Asked who was responsible, Anubrata said, "CPM is responsible for it. Yesterday, polling was very peaceful. We did not retaliate because they lost and they started the bombing. They are wholly responsible for it."
There are rumours that Anubrata's men have been visiting people's homes to warn them of CCTVs placed inside poll booths to keep a watch on who they voted for. Anubrata has denied this.
He has also been telling voters that the party would give them gur batasha (jaggery and sugar candy). Opposition leaders have interpreted it as a warning that voters would have to bear the consequences if they did not vote for the Trinamul.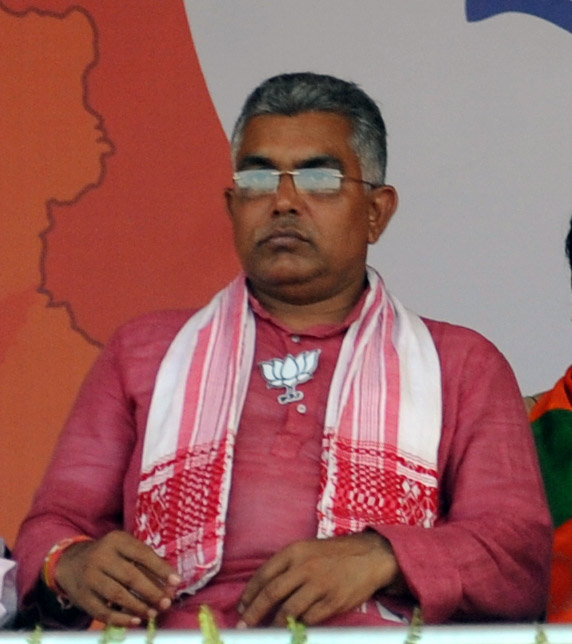 Dilip Ghosh
Anubrata, of course, is not the only one making inflammatory comments. In March, state BJP chief in West Bengal Dilip Ghosh threatened to behead those shouting anti-national slogans.
On March 2, Ghosh warned, "Anyone who raises slogans of 'Pakistan Zindabad' will be chopped off six inches from the top."
He was addressing a meeting of party workers at Birbhum. Asked about his remarks, Ghosh told newsable.com, "What I had said was that if anyone says 'Pakistan zindabad', let them go and live in Pakistan and see what democracy is like. They will either be chopped off six inches from the top or sent six feet under."
On March 6, he had sparked yet another controversy by threatening students of Jadavpur University with dire consequences if they supported JNU students' union president Kanhaiya Kumar.
Addressing a public rally in Gopiballabhpur village, West Midnapore district, Ghosh said, "Students of Jadavpur University are sitting on campus and chanting pro-Pakistani slogans… let them come out of the campus; we will beat them so badly that they will forget their names."
Ghosh stands by Locket Chatterjee, a BJP candidate and former Tollywood starlet, who issued threats to a presiding officer in a polling booth in Birbhum on Sunday and was show-caused by the EC. "EC has show-caused her, and a reply will be given. But what she did was right.
Hers is the kind of attitude that is required, especially in a place like Birbhum where other party leaders issue threats that they will make polling agents vanish, where rigging goes on in front of the very eyes of silent poll officers. What does one do? Silently watch all this?" Ghosh toldnewsable.com.
If Ghosh spoke of beheading, actor-turned BJP leader Joy Banerjee talked of "bulldozing". On September 20, 2015, Banerjee said the Election Commission was under his party's control.
Addressing a party meet at Mayureswar, near Suri, Banerjee alleged that the Trinamul had defeated BJP in the last Lok Sabha election by using "unfair means". "They defeated us by cheating. But in the coming assembly election, this will not be possible as it will be held under Army vigilance and the Election Commission is in our hands," Banerjee said.
"Our central leaders have said that after winning the Bihar election, a bulldozer will be run in West Bengal," he added.
While Trinamul strongman Anubrata flexes his muscles in Birbhum and Burdwan, Mamata Banerjee's nephew, Abhishek Banerjee, also a party MP, issued threats to the Left during a rally in Purulia.
"After May 19, when the ballot boxes are opened, the people of Bengal will witness a new Trinamul. We have been very courteous, we have given you many opportunities, but not anymore.
In the days to come, inch by inch, you will be given a befitting reply. Be prepared," said Abhishek.
Last Updated Mar 31, 2018, 7:03 PM IST